AUTOMOTIVE: CODA MAY SEEK SALE AS FIRM GRINDS GEARS.
Bad Buzz For Electric Sedan
Monday, March 11, 2013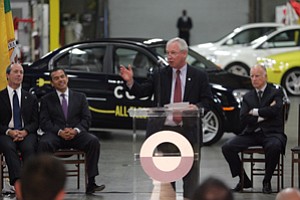 But slow sales and mediocre reviews have dogged Coda since its only model, the Coda Sedan, went on sale last March. Only about 100 vehicles have been sold.
Auto critics gave Coda's car high marks for having better range than many other electric vehicles, but knocked it for its dowdy design and high price tag: It retails for $38,000.
"The big problem is it's basically a five- or six-year-old Mitsubishi," said John O'Dell, a senior editor with Santa Monica vehicle review site Edmunds.com. "It's not competitive in terms of style, fit and finish. It's overpriced and underwhelming."
Big automakers can tolerate weak sales of their electric vehicles while waiting for demand to pick up; Nissan will survive if its electric Leaf model fizzles. But Coda makes only electric cars, and only one model, and few are buying it.
Anaheim electric car maker Fisker Automotive has the same weakness. It makes one model and hasn't sold enough of them. Fisker is also looking for new investors or a buyer; it hired investment bank Evercore Partners as an adviser last year.
"It's difficult for anyone to make a new car and compete if all you have is that one car," O'Dell said. "They've only got one product. There's nothing there to sustain them if they run into a weak sales situation."
But Coda makes more than cars, and O'Dell said one way for the company to raise cash or stay in business would be to sell its battery technology.
Coda's battery-focused unit, Coda Energy LLC, has a joint venture with a Chinese battery manufacturer and builds battery systems that store energy from solar arrays and other sources for later use. Sloustcher said that side of the business is growing and, compared with the company's automotive business, could become profitable more easily.
"Recently, there's been a lot of interest – on the part of customers and partners as well as from investors – in the company's energy storage products," he said. "The energy storage business is much less capital intensive. The investment necessary to get that side of the business cash-flow positive or profitable is orders of magnitude less than automotive."
That suggests a sale or spinoff of Coda's energy business could be in the offing. Sloustcher was asked if that was a possibility.
"We haven't taken any options off the table," he said.
Prev Next