Online Fee For All
INTERNET: MediaPass' paywall services help publishers put price on content.
Monday, March 4, 2013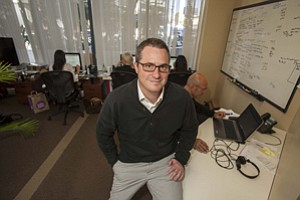 "That's created an opening for outside services," Benton said. "If it were just a rock solid paywall, that's not hard to manage."
When Mitchell co-founded MediaPass with Jeffrey Tinsley, chief executive of social networking site MyLife.com, in 2010, publishers weren't yet sold on the idea that they could charge readers for access to their sites. He nonetheless saw an opportunity to apply experience he gained working at subscription-based dot-com businesses such as MyLife to the online media world.
Experimentation to expectation
At the time, the paywall model was most common in the financial press, with early adopters including the Financial Times of London, though it was far rarer in the consumer press. That began to change in 2011, when the New York Times rolled out its paywall model, an effort it has pronounced a success. (The change to a "leaky" paywall model at the Times cost it just 5 percent to 10 percent of its online readership, according to reports.) That emboldened many others to try out the business model.
"The paywall is going from essentially an experimentation to an expectation," said Ken Doctor, a media business analyst in San Francisco and author of "Newsonomics."
Doctor said about one-third of the country's 15,000 daily newspapers are expected to have such an online payment feature by February of next year, and many, the Los Angeles Times among them, have developed their own subscription-based apps for mobile platforms.
That creates an opportunity for firms like MediaPass, which has also taken early steps into mobile app subscriptions, though it remains a nascent part of its business.
Competition, however, is strong, coming from the likes of industry leader Press+. The New York paywall company was co-founded by CourtTV and American Lawyer founder Steven Brill and former Wall Street Journal publisher Gordon Crovitz in 2009 and sold in 2011 to R. R. Donnelley & Sons Co. for an estimated $45 million. Brill and Crovitz are co-CEOs of the company, which has a deal with the McClatchy Co. chain of newspapers based in Sacramento. McClatchy said in February that its paywall generated $1.2 million last year and was projecting $20 million in additional paywall-related sales this year.
One challenge for MediaPass is that larger companies such as Press+ can often charge publishers lower rates, Doctor said. What's more, some publishers would prefer to develop paywall software in-house rather than share subscription revenue with outside technology providers.
Mitchell said MediaPass is addressing that limitation by pursuing deals with providers of content management systems, such as the popular blogging platform WordPress, and ad networks, which can use MediaPass's subscription feature to give publishers a package that combines software to track advertising as well as manage subscriptions.
Targeting such clients has, in turn, helped the company bring in name-brand publishers, Mitchell said.
MediaPass made a deal last year with WordPress that made its paywall software a built-in feature for WordPress' premium platform, VIP, service.
As a result, MediaPass is now processing payments for supermarket tabloid Weekly World News, which uses the VIP platform.
Mitchell said he hopes to continue adding increasingly larger publishers.
"We're working our way up the publisher food chain," he said.
Prev Next