New Jersey Raises Gaming Stakes
Gambling: Local businesses hope to split state's online pot.
Monday, March 4, 2013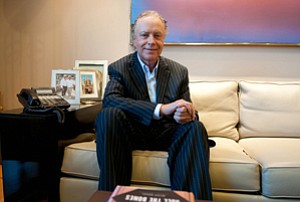 Bronson, a former casino executive at Mirage Resorts, started USDG in 2008 along with music and film producer Richard Baskin. The two ponied up a combined $3 million and reportedly raised another $3 million as of 2011 from investors including Herb Simon, a real estate developer and owner of pro basketball's Indiana Pacers. USDG is actively lobbying to legalize online gambling in about 15 states.
Cams, which also has signed a contract with online poker operator Ultimate Gaming in Nevada, was formed in 2011 by Katz to sell technology to online gambling operators. Katz is also the founder and chief executive of a related entity, Verifi Inc., which offers similar technology to nongambling industries, such as foreign exchange trading and dating websites.
Other companies include Westchester television network TVG Network, operator of a website for horse race betting, which is legal in California. A TVGN spokesman declined to comment on whether it was seeking to partner with casinos in New Jersey.
More could be coming. Dennis M.P. Ehling, an attorney at Blank Rome LLP's Century City office who specializes in online gaming laws, said he has consulted with several local technology companies in the last year that are looking at developing online gambling software.
"I certainly expect more people to start developing software," he said.
State-by-state momentum seems to be building. New Jersey, which will allow casinos to operate gambling websites for any games currently offered by casinos there, represents the most populous state so far to authorize online gambling. In late 2011, the Justice Department issued an opinion that opened the door for online betting within state borders. Nevada legalized online poker only in 2011, and followed with a bill last month that allows online poker players in Nevada to bet against players in other states. Delaware approved in-state online gaming last year, and the belief is that more states will be tempted to follow as they seek ways to raise money without increasing taxes.
The big fish is California, which so far has resisted legalization attempts.
"California presents a significant growth opportunity for the industry," Katz said. "Arguably, it is the largest market."
Two bills to legalize online gambling are currently in the state Legislature, but have not gotten very far. One obstacle is that established gambling outlets including card clubs and American Indian casinos have been unable to agree on an online framework, Ehling said.
Still, they could be pushed by legalization in other states, he added.
"California is a ways away," he said. "But as state-by-state legalization grows, I think the pressure on California not to be left behind will continue to grow."
Prev Next