GAMBLING: LOCAL BUSINESSES HOPE TO SPLIT STATE'S ONLINE POT.
New Jersey Raises Gaming Stakes
Monday, March 4, 2013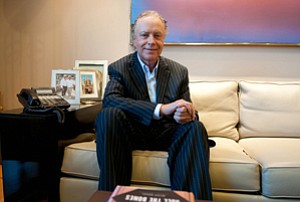 For L.A. companies betting on online gambling, last week's legalization of Internet gaming in New Jersey marked the biggest opportunity so far.
Within days of New Jersey Gov. Chris Christie's signing of a bill authorizing the state's casinos to launch online gambling operations, local companies were moving to secure business in a market that some experts project could be worth up to $1 billion annually.
Matthew Katz, chief executive of Cams LLC, a Miracle Mile technology company offering payment processing and customer ID services for online gambling websites, met with New Jersey regulators the day after the bill's passage. His company has filed for a license to sell its services to future online gambling operators there.
"Absolutely we're looking to pursue that marketplace," he said. "The market is significantly larger based on the population and the nature of the games being offered."
U.S. Digital Gaming, a Beverly Hills technology company that provides software for gaming websites, is negotiating with potential partners in New Jersey, said Chairman Richard "Skip" Bronson.
It has also struck a deal with an unnamed partner in Nevada, which legalized interstate online poker last month. He anticipates that other states will follow.
"Now that Nevada's done it and New Jersey's done it, there will be a domino effect," he said. "It's definitely going to accelerate the process of legalization."
New Jersey's actions also figure to be a big lift for Meruelo Group, a Downey investment and holding company owned by Alex Meruelo. Last month, it agreed to purchase the Trump Plaza Hotel and Casino in Atlantic City, N.J., for $20 million. It now has the option of launching an online gambling site accessible by anyone inside state lines. The company has a similar option for Reno, Nev.'s Grand Sierra Resort, which it bought in 2011.
Meruelo's president, Xavier A. Gutierrez, said the legalization of online gambling in those states could benefit the company, but that Meruelo has not yet decided whether or how to get involved.
"Our purchases were irrespective of the online gaming opportunities, but they're now enhanced by it without a doubt," he said. "Certainly we'll be looking at it."
Placing bets
By some estimates, the online gambling market in the United States could generate as much as $12 billion a year, based on numbers in the United Kingdom, where online gaming is legalized and makes up 12 percent of the gambling market.
As a media and technology center in a state that is presumed to be the largest untapped online gambling market in the country, Los Angeles is home to several companies angling to get a piece of the action.
Prev Next