Amazon Raising Stakes in L.A. With Delivery Service
GROCERY: Meat vendor makes the cut as one of first clients.
Monday, June 3, 2013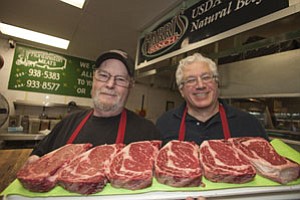 Ryan Reese, a fishmonger at Seattle's iconic Pike Place Fish Market, said working with AmazonFresh has boosted sales by 5 percent to 10 percent. Like the Farmers Market, Pike Place can be seen as a tourist destination and many Seattle-area residents visit infrequently.
"It's a difficult place to go for locals unless they live nearby," Reese said. "Now we're getting a whole new customer. I see the ZIP codes where people are ordering from and it's customers who would never come down here. Every single order, I believe, is money in our pocket."
But some merchants haven't been quick to jump on board. Last year, AmazonFresh approached Coolhaus, a Culver City company that makes ice-cream sandwiches.
Natasha Case, Coolhaus chief executive, said she was interested, but the price Amazon wanted for her treats was too low.
"They wanted us to come down 30 or 40 percent from wholesale," she said. "It was hard to make the numbers work."
But that was a year ago, and Coolhaus has since scaled up its production. Its ice-cream sandwiches are now available in most Whole Foods Markets around Los Angeles.
If AmazonFresh comes calling again, Case said her answer might be different. Even though her products are more widely available, she said home delivery is a tempting opportunity.
"We're definitely revisiting this," she said. "I think direct to consumer is always going to be an advantage no matter how available you are."
Prev Next