GROCERY: MEAT VENDOR MAKES THE CUT AS ONE OF FIRST CLIENTS.
Amazon Raising Stakes in L.A. With Delivery Service
Monday, June 3, 2013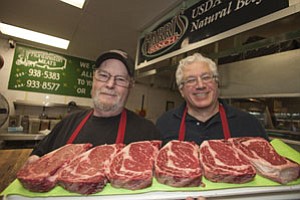 The packages are put together at an Amazon distribution center then delivered by an Amazon driver in an AmazonFresh truck – not by the post office, UPS or FedEx.
In delivering groceries, AmazonFresh isn't much different from other services, including what's offered by Safeway Inc.'s Vons chain in Southern California. But while Vons sells and delivers groceries, Amazon sells and delivers just about anything to AmazonFresh customers: spinach, eggs and a copy of "Moby Dick" or a pair of jeans, all ordered today and delivered to your doorstep tomorrow morning, and all for the same delivery fee.
Scott Tilghman, an analyst who follows Amazon for Westwood stock brokerage B. Riley & Co. LLC, said that's how Amazon will make its money – not by selling groceries.
"If they make a 1 or 2 percent margin on groceries, but they're able to get a few hundred extra dollars from those same customers buying other products, it's more than covered the cost of that venture," he said.
Other analysts say Amazon would be happy making no margin on the grocery business. If it can sell enough groceries to cover the cost of delivery and local distribution centers, it can bring in more customers and sell more products thanks to the quick shipping opportunity that the grocery infrastructure creates, said Keith Anderson, a consultant at RetailNetGroup of Waltham, Mass.
"I think they would be comfortable breaking even," he said. "If you don't have to pay to get stuff the same day, that will just be another hook to shift more spending to Amazon."
Lower margins
Even if grocery delivery serves as a loss leader, the company demands big discounts from Huntington Meats and other local merchants in exchange for the exposure and larger customer base Amazon aims to provide.
Huntington Meats' products will cost the same whether purchased at the Farmers Market store or through AmazonFresh, but Huntington Meats will sell to Amazon at a 25 percent discount below retail.
"They're giving us the orders," Cascone said. "You get your order from Amazon and they take their cut. We get whatever's left."
But Cascone said that's still a good deal for Huntington Meats. Meat is a volume business, so more sales, even at that discount, should still improve the company's bottom line. He thinks AmazonFresh will sell his sausages to many customers who likely wouldn't drive to the Farmers Market.
"I think it's going to expand our business and our clients," he said.