GROCERY: MEAT VENDOR MAKES THE CUT AS ONE OF FIRST CLIENTS.
Amazon Raising Stakes in L.A. With Delivery Service
Monday, June 3, 2013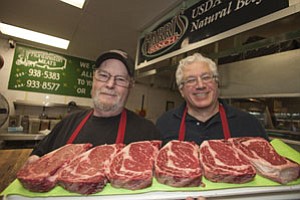 If you wanted alligator andouille or wild boar sausage from Huntington Meats, you had to drive to the Fairfax Farmers Market.
But starting as soon as this week, Angelenos will be able to order online and get their sausages delivered to their doorstep – not by Huntington Meats or even FedEx, but by e-commerce giant Amazon.com Inc.
Amazon is about to launch a grocery delivery service, AmazonFresh, in Los Angeles, the first expansion of the service outside of the company's native Seattle.
For Huntington and a few other local retailers, the service could help boost sales. But for Amazon, it's part of a plan to give customers fewer reasons to shop anywhere else by selling just about everything and offering quick delivery.
The company has been tight-lipped about AmazonFresh's arrival in Los Angeles and executives did not return calls for comment. But Jim Cascone and Dan Vance, co-owners of Huntington Meats, said they expect a soft launch in Los Angeles on Wednesday or Thursday.
Their shop is one of a handful of L.A. merchants hand-picked for sale by AmazonFresh. Another is Rancho Dominguez seafood retailer and wholesaler Santa Monica Seafood Co. That company declined to comment.
AmazonFresh has similar relationships with merchants and restaurants in Seattle, advertising their products for sale on the AmazonFresh website.
Cascone said he thinks selling through AmazonFresh should expand his customer base well beyond folks who live near Farmers Market or are willing to drive there.
"There are a lot of Hollywood writers I know who don't even leave their house," he said. "This is more convenient. In Los Angeles, the convenience is more important than cost."
Groceries and books
AmazonFresh has been testing in Seattle since 2007, slowly spreading grocery delivery to more ZIP codes in the region during that time. Analysts expect AmazonFresh will have a similar type of roll-out in Los Angeles.
Customers in eligible ZIP codes will be able to buy groceries on AmazonFresh's site in much the same way they pick books, electronics or other items on Amazon.com.
Once groceries are selected, customers choose a delivery time – either a three-hour window when groceries can be dropped off on a doorstep or a one-hour window when a customer can accept a delivery in person.
In Seattle, the most popular option is predawn delivery, with groceries dropped off before 6 a.m. Groceries come in temperature-controlled tote bags.
Orders of more than $100 have no delivery fee. AmazonFresh charges buyers $7.99 for orders between $50 and $100 and a $9.99 for smaller orders.
Prev Next