RUBICON PROJECT'S FRANK ADDANTE ASPIRES TO SNATCH CYBERSPACE CROWN FROM INTERNET LEADER GOOGLE.
Ad It Up
Monday, June 3, 2013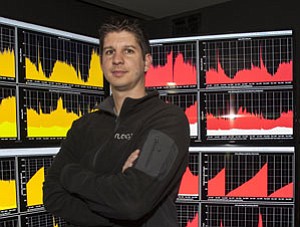 Frank Addante fits the textbook definition of a serial entrepreneur. Since dropping out of college his junior year to create a search engine during the early days of the Web, he's been with one startup after another. Since the late '90s, these companies have almost entirely been in Los Angeles, making Addante one of the forbearers of today's active L.A. tech scene. His current company, which also happens to be the one he's been with the longest, is ad tech firm Rubicon Project. Although that sector is infamous for its esoteric construct of intermediary companies, Addante's pitch for Rubicon is simple: make the process of buying an ad as simple as buying a plane ticket. He launched Rubicon in 2007 and has turned it into a firm with $292 million in revenue in 2012. It's commonly expected to be the next L.A. tech company to go public, which would be a snow leopard-rare occurrence in today's economy. Addante recently sat down with the Business Journal to talk about the companies he's already taken public as well as growing up in Chicago, and the perils of being ahead of your time in tech.
Question: You've been part of L.A. tech for a while, but didn't grow up here, right?
Answer: I'm from Norridge, near Chicago. It's the only city that's completely surrounded by another city. It's right next to O'Hare, so the city of Chicago annexed all the land around the airport and my town was basically surrounded by Chicago.
What kind of a town was it?
Very small. My eighth-grade graduating class was 44 people and my high school was less than 400. There were a lot of Italians. Some didn't even speak English. My dad was born in Italy and my mom was born in Poland, so they were immigrants as well.
What was it like growing up with two European, strongly Catholic cultures?
My wife and I got married last June and just from aunts and uncles, the first cousins – I have to say first cousins because especially for Italians you've got tons and tons of seconds and third cousins – but just from first cousins, we had 93 people.
A small working-class town is very different from Los Angeles.
Very few people went to college, many are in construction. Those that went to college went to community college versus universities. I'm guessing there were less than 10 that went to the university. It's very blue collar.
Prev Next