Inexpensive Console Makes Play for TVs
VIDEO GAMES: Shortage of titles could stymie Ouya's rollout.
Monday, July 29, 2013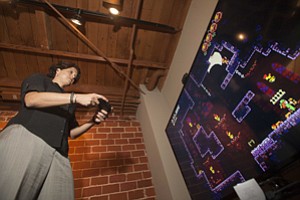 Uhrman brushed aside complaints about game selection, pointing out that just a month after launch there are already 276 titles available.
What could prove even more worrisome for Ouya is that the types of casual gamers it's gunning for might soon have no need for a console at all.
Mike Hickey, a gaming industry analyst at the Denver office of Benchmark Co. LLC, said mobile devices, such as smartphones and tablets, have become the go-to device for casual or midcore gamers. With wireless interconnectivity between mobile and televisions soon expected to become standard, Ouya will become obsolete.
"It was an incredible grassroots effort to get this thing to market," Hickey said. "But I just don't think that Ouya really has a long-term solution and it's unlikely they'll get enough market share."
Uhrman countered that her vision for Ouya isn't just a set-top box for mobile gaming, but a new category of its own. True, it runs on an operating system designed for mobile, but its best games make real use of the TV screen. She pointed to "TowerFall," an adventure game in the style of Nintendo's hit "Super Smash Brothers," as an example of a how a programmer was able to pair Ouya's simplicity with a big screen.
For Ouya to even reach the point where it could be dismissed by reviewers is a small victory in itself.
Uhrman had never headed up a console development team before; her previous jobs were in digital distribution and marketing, including work for gaming site IGN Inc. and game rental service GameFly Inc.
Long a dedicated gamer, she found herself migrating exclusively to mobile gaming as titles for top-end consoles became complicated, high priced and sequel driven.
The Ouya, then, would be a bridge between mobile and television where indie gamers and top developers could mingle in the same marketplace. (The O in Ouya stands for "open," though that's as far as any acronym gets.)
Crowdfunding success
In keeping with Uhrman's ideal, Ouya's slate of game makers is an eclectic mix that includes both one-person shops and major publishers such as Sega Corp. and Square Enix Holdings Co. Ltd.
The idea appeared to hit a nerve in an equally weary gaming community. When the project was uploaded to Kickstarter last July, it blew past its modest goal of $950,000 within hours. By the time funding wrapped up a month later, more than 60,000 backers had taken the device to 900 percent of its goal.