Veggie Restaurant Looks Out of State To Beef Up Chain
Monday, July 22, 2013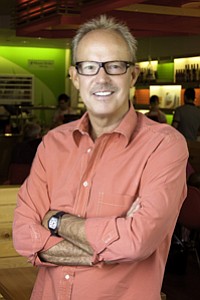 Location, location, location
But even as the trend toward healthy eating is on the rise, Tristano said such aggressive expansion might be a challenge for Veggie Grill. For one thing, restaurant real estate is harder to come by these days, particularly in the upscale markets the chain is planning to enter.
"The industry has improved since the recession and we're seeing more restaurant openings than closures," he said. "Because of that, top locations are more difficult to find and obtain. Veggie Grill isn't just another pizza place that can survive almost anywhere."
The vegan chain, which is entirely company owned, leases space rather than purchasing real estate in the upscale urban markets it prioritizes for growth.
Dollarhyde, who said his personal goal for the company is to double the chain's restaurant count every 18 months, said he likes to open more than one restaurant in a region at a time.
"You have to be willing to go into markets and build out more than one," he said. "One restaurant in Seattle, for example, doesn't create the excitement or awareness that you need in a big city."
The company, which Dollarhyde said has grown revenue by 65 percent in the last year, is funding its expansion in part through corporate cash flow, but mostly with $20 million the company raised from investors in January. Westside private equity firm Brentwood Associates, which began investing in Veggie Grill in 2011, provided much of that money and is now the company's largest single shareholder.
Still, Vegetarian Resource Group, a Baltimore non-profit that tracks Americans' meatless eating habits, estimated that vegetarians made up only 3 percent of the overall U.S. population in 2010.
That, Tristano said, means Veggie Grill will need to convince carnivores to try its food to have widespread success.
"I think most Americans who eat hamburgers prefer beef to black bean or Portobello," he said. "If the price point is similar and I have the choice of having a burger at Veggie Grill or at Umami Burger, I'm going to go where the taste is better."
A meatless, dairy-free cheeseburger with a side of steamed kale at Veggie Grill costs $9.95. West L.A. burger chain Umami's signature sandwich costs $11.
Dollarhyde said that while meat eaters might not be drawn to the idea of eating fake meat, once they do, they usually come back for more. In fact, he said only 30 percent of Veggie Grill customers are vegetarian or vegan.
"Because our food is plant based, there's no hormones, no cholesterol and very little saturated fat," he said. "It's all part of the big movement in the United States of better-for-me food."
Prev Next