Dialed In
INTERNET: Provider of mobile online service FreedomPop closes funding round with $5 million as it prepares to launch its own phone.
Monday, July 22, 2013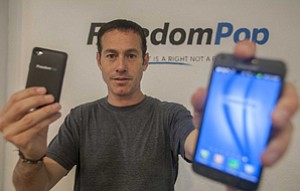 TextPlus has been part of the wave of companies that have pioneered free texting and calls through apps. These services have forced cellphone companies to change their billing plans as the high-margin business of charging for texts was replaced by plans that cap customer data. Limited texting, once a staple of the mobile phone plan, is now almost entirely unheard of.
But an inexpensive, data-restricted Internet service such as FreedomPop's doesn't seem as likely to upend the Internet service provider industry at large, according to Seattle telecom analyst Donna Jaegers at D.A. Davidson & Co.
With only 500 megabytes of free data each month, FreedomPop doesn't make a dent in the average browsing and downloading habits of home broadband users. And as smartphones continue to take on heavier and more data-intensive tasks such as streaming video, the monthly allotment might not be sufficient.
Still, lower-end users looking for a deal are a veritable market on their own.
"It makes sense for someone that wants a moderate amount of data and through a service that can connect to a mobile network," Jaegers said. "They're looking for a younger person who is very budget constrained and uses most data over Wi-Fi but still wants that connectivity."
As with the hot spots, the low-cost phone and accompanying data plans have attracted heavy consumer interest. Since FreedomPop announced the phone program in June, executives said more than 100,000 people have expressed interest.
It's a daunting number given FreedomPop's troubles to keep up with demand for the hot spots, but Stokols said the company has been purchasing refurbished phones en masse to meet the demand
"Our investors thought we were initially being conservative with our purchase of devices," Stokols said. "Now we're not in the situation with the hot spots where we don't have the inventory."
Prev Next