ACQUISITION: PROPERTY PICKED UP FOR $66 MILLION BY KENNEDY-WILSON.
Real Estate Firm to Recast Talent Agency's HQ
Monday, July 15, 2013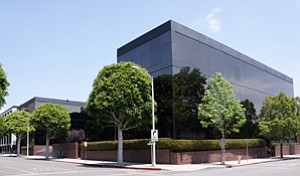 Kennedy-Wilson Holdings Inc. has acquired the Beverly Hills office buildings that were once home to talent agency William Morris Endeavor in a $66 million deal.
The Beverly Hills real estate investment and services firm plans to move its headquarters into one of the two next year and will lease the second.
The firm bought the vacant three-story buildings at 150 and 151 El Camino Drive in the city's popular Golden Triangle from Hollywood real estate investor CIM Group LP last month, said John Prabhu, president of Kennedy-Wilson's commercial investment group.
CIM acquired the buildings, which together have 127,141 square feet, in 2011 for $47.8 million. At $527 a square foot, the Kennedy-Wilson deal is among the highest office prices in Beverly Hills this year.
Kennedy-Wilson is planning a multimillion-dollar interior and exterior renovation that would modernize both properties, giving them larger, more prominent lobbies and courtyards as well as upgrading the interior office space.
"We want to give it a more modern look that will attract a preeminent company," Prabhu said.
The firm plans to move its headquarters into the 151 El Camino property from its 9701 Wilshire Blvd. location by the end of next year.
The 150 El Camino building was purchased in partnership with New York's LeFrak Organization. The co-owners hired Bob Safai of real estate brokerage Madison Partners to find creative or media tenants for that building. Asking rates are likely to be close to $5 a square foot, among the highest in the market, Prabhu said.
"The rates will be commensurate with the renovation that will take place," he said.

CIM, which announced the sale of the buildings earlier this month but did not disclose the buyer or sales price, declined to comment for this column.
Heart of Hollywood
FilmL.A. Inc. is saying goodbye to its longtime downtown L.A. headquarters and moving into the heart of Tinsel Town.
The nonprofit on-location film permitting agency signed a long-term lease for the full 17,785-square-foot 12th floor of 6255 Sunset Blvd. with landlord Kilroy Realty Corp. Terms of the deal were not disclosed, but industry sources value the deal at more than $5 million.
The firm is relocating from comparable space at 1201 W. Fifth St. in downtown, where it had been for nearly a decade.
FilmL.A. President Paul Audley said the company evaluated about 100 locations before deciding on the Sunset Media Tower, which offers better parking and public transportation and – perhaps most importantly – a prime location.
Prev Next