True Grit
Tech firms connect with downtown Arts District
Originally published July 1, 2013 at midnight, updated July 18, 2013 at 4:57 p.m.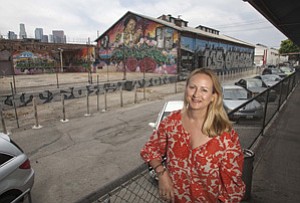 When the campus is completed in 2015, it will serve as the flagship of the Cleantech Corridor, a four-mile strip of land that runs along the river and through the Arts District.
"It's really important that if we're going to build this ecosystem that nurtures technology companies and clean tech companies, we have to have a physical presence for that," said Fred Walti, executive director of the incubator. "We want to build this area as a clean tech hub."
Central location
The Arts District has long been part of the industrial core of Los Angeles. Its proximity to the Fashion District has also given rise to a handful of retail businesses along its Alameda border.
But as downtown has seen an influx of loft dwellers and cafégoers, so, too, has the Arts District.
A handful of warehouses-turned-lofts now dot the district's streets, interspersed with shops and restaurants catering to the people who live there. The area is now drawing comparisons to New York's Meatpacking District or San Francisco's South of Market neighborhood, where tech darling Twitter Inc. has set up its elaborate corporate headquarters.
But it's more than lunch spots and cocktail hours bringing technology companies to the neighborhood.
Andrew Lustgarten, corporate managing director at the downtown office of real estate firm Studley Inc., said tech firms are especially enamored with the Arts District warehouses, many of which have been converted into cheap creative office space with high ceilings and open floor plans.
At an average of $2 per square foot with some utilities, rents are less than half of what Santa Monica's rates were for the first quarter.
"The cost to be in Santa Monica and Culver City has become so expensive that we're seeing some of those companies now considering downtown L.A.," Lustgarten said. "It's the new place to be for these creative companies."
Another common theme is the Arts District's proximity to freeways and public transit.
Jon Miller, co-founder of Cleantech Incubator portfolio company Hive Lighting, said it's convenient for his firm – which manufactures energy-efficient lighting for film shoots, concerts and other events – to be near major transportation routes.
"We're five minutes from every major freeway," he said. "We do a lot of shipping and receiving, and we started exporting this year. It's relatively easy access from any direction."
It was these factors that drew Oblong to the Arts District office six years ago. The company had developed a technology called g-speak, which allows software to run across multiple screens. Instead of controlling those screens with a mouse or keyboard, a person controls them through movements and gestures.