TRANSPORTATION: TRIO OF COMPANIES ACCUSED OF OPERATING BANDIT TAXIS.
Ride-Share Services Hit City of L.A. Roadblock
Monday, July 1, 2013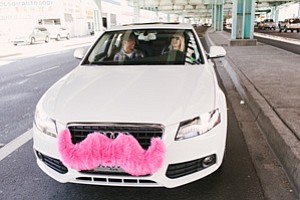 When the companies came to town, Drischler said they had no formal discussions with the city about how to operate.
"They're the ones that came into L.A. without a permit. They need to approach us," he said. "But that's not how they operate; they just go into business."
Zimmer said he and other executives from Lyft have, in fact, met with DOT officials, though it came right as the company launched in Los Angeles and not previously. He said there was no indication at the time the city found his company to be operating illegally.
The conflict might come down to a definition of how, exactly, to categorize these ride-sharing services. If they are considered taxicab services, they would be subject to regulation by the city and county.
"If they operate like a taxicab, they should be subject to taxicab regulations," said Marco Soto, a vice president of the L.A. office of Yellow Cab Co. after a meeting of Los Angeles City Council's transportation committee last week.
If Lyft, Uber and Sidecar are not considered taxicabs, they would be subject to the provisional agreement with the Public Utility Commission. The earliest expected date for the agency to lay out firm rules and regulations for these services would be sometime this month.
In the interim, there appears to be a standoff between the ride-sharing companies and the city. Zimmer of Lyft, which is based in San Francisco, said he will be in Los Angeles this week, and while he had no meetings set with city officials, he was open to it.
As for the penalties to drivers, Drischler said the cease-and-desist letter did not apply to rides originating outside the city of Los Angeles; a person picked up in Santa Monica need not worry about any action from the city.
Many members of L.A.'s tech scene have already implored Mayor Eric Garcetti to lift the city's ban on ride-sharing, and a petition to that effect is already circulating.
For the DOT's part, Drischler insisted the move was by no means anti-tech.
"Taxicab companies are extremely sophisticated when it comes to tech. All have GPS in their cars, many have phone apps and security cameras. So they're no slouches in the tech department," Drischler said. "This isn't an anti-tech initiative. It's strictly anti-illegal operations."
Prev Next