Patched In
YouTube among tech giants moving into Silicon Beach
Monday, February 25, 2013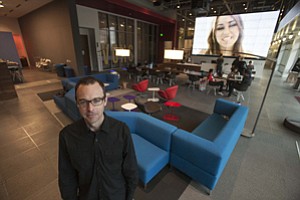 "We do things a lot more inexpensively than the studios do and I think they want to understand better why that is," he said.
Microsoft isn't a complete neophyte at the original video content creation, and has worked with West Hollywood's Machinima Inc. on a number of projects. Notably, the software maker co-produced Web series "Halo 4: Forward Unto Dawn," which promoted the "Halo" video game franchise and was distributed through Machinima's popular YouTube channel.
That type of sophisticated promotion is now common in the tech and video game industries and might also be a reason why tech companies are taking a deeper interest in having roots in Hollywood.
Aaron DeBevoise, an executive vice president of programming for Machinima, said the changing nature of online video advertising has led Microsoft and others to rethink how they market their products.
"In trying to engage the audience and make them love these products, companies need to program ads from a content perspective rather than taking a tech approach," he said.
The tech companies that are now getting into the original content business might create a new climate for smaller business to pop up around them. YouTube has built up a cottage industry in Los Angeles of video consultants, promoters and managers who deal specifically with YouTube stars.
There remains a similar hope that the rising tide of new video streaming platforms can benefit existing production companies, especially now that they don't have to travel far to meet with new distributors.
"That proximity is important; it's about who you play basketball or eat breakfast with," Levin said. "Having the big tech companies nearby gives this era in media a different vibe."
Prev Next