L.A. Tech Kick It at New Clubhouse
Friday, February 22, 2013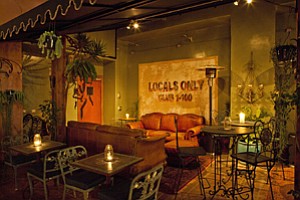 An annual membership costs $2,000. A special under-30 rate, which is discounted to $1,250 for the year, is meant to attract young entrepreneurs.

Russo and Umland have hired former "Top Chef" contestant Chris Crary as the club's executive chef, though Russo said he'd like to bring in guest chefs occasionally to spice up the menu.
41 Ocean will also host a slate of cultural events – everything from comedy nights to concerts – for its members. And members can rent out parts of the club to host private events, such as birthday parties or company launch celebrations.

41 Ocean is modeled similar to London's Soho House, which has gotten a lot of local buzz since it opened a West Hollywood location in 2010. SoHo House, which reportedly has 2,500 members, attracts a primarily entertainment business crowd.
Though 41 Ocean is popular with techies, it also has members in the entertainment and media industries, including Jim Wiatt, the former chief executive of the William Morris Agency and a 41 Ocean investor.
Many 41 Ocean members note that the influx of celebrities and entertainment types investing in L.A. tech companies has helped to mix the two groups, and the membership at 41 Ocean reflects the convergence of the tech and media industries.
But for many, having easy access to some of the biggest names in L.A. tech is the big draw.
"The core group of angels and founders is there every time I've been," said Alec Shankman, co-founder of startup GotCast. "It's always been a logistically complicated process to track them down. So it's a pretty cool mecca for interacting with everybody.
Prev Next