L.A. Tech Kick It at New Clubhouse
Friday, February 22, 2013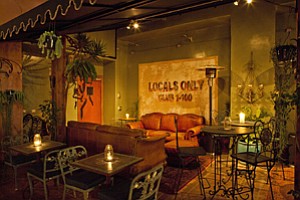 On a recent Wednesday afternoon, 41 Ocean Club was buzzing with so much activity that it could have been mistaken for the hip office of a local tech company.
Clustered in one corner were two people working on their laptops. They have a startup, and an angel investor sat next to them on a couch. Outside on the patio, an entrepreneur was smoking a cigar with a friend.
The L.A. tech community has embraced the new members-only club, which had its grand opening on Jan. 25. Many of the club's investors and founding members are tech investors and entrepreneurs, including angel Paige Craig and BeachMint founders Josh Berman and Diego Berdakin.
"We wanted to create a watering hole where we can get people together," said Craig, who has invested in many L.A. tech companies. "It's part of the ecosystem."
On any given day, someone visiting 41 Ocean can expect to see a who's who of the L.A. tech community. According to Craig, most of the town's venture capitalists, angel investors and serial entrepreneurs make up 41 Ocean's less than 250-person roster.
Many in the tech community are attracted to 41 Ocean because it is walking distance from the hub of tech companies around Santa Monica's Third Street Promenade.
"I can't tell you how nice it is, not having to get in my car," said Berman of BeachMint. "I'm going to have a ton of board meetings, interviews and business development meetings there."

The idea for a club that catered to the Santa Monica tech crowd first gained traction last year. With so many startups and VCs moving near the beach, many people wanted to create a place where they could mix business with pleasure.
Managing partners Max Russo and Jeremy Umland began working on the project about eight months ago. Russo previously worked as a VIP host and event planner for Las Vegas nightclub Pure, and Umland founded hospitality group Ozumo Concepts International, which operates several restaurants including Ozumo and Sonoma Wine Garden in Santa Monica.
"We wanted to see this become a collage of entrepreneurs, whether it's in tech, art, advertising, film or music," Russo said. "We wanted to have everybody get together and have a good time."
41 Ocean occupies about 4,000 square feet in a secluded courtyard off Ocean Avenue. Decorated in a Spanish revival theme, it features a lounge, bar, dining room, screening room and outdoor patio.
Prev Next