Marina del Rey Harbors Growth Plan
Real Estate: Developers look to plug into Silicon Beach scene.
Monday, February 18, 2013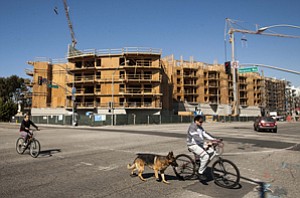 Meanwhile, Westside developer Gold Coast plans to redevelop the 32,000-square-foot Fisherman's Village waterfront mall and boat harbor, and Marina West Shopping Center. Its plans could double the size of Fisherman's Village and add a 132-room hotel.
Gold Coast has also proposed redeveloping its 17,500-square-foot Marina West Shopping Center on Washington Boulevard, now home to an Islands restaurant and single-story retail shops, into a two-story retail shopping strip and add 6,000 square feet.
Legacy Partners Inc. has received approvals for a 126-unit apartment complex at the site of a public parking lot as well as a 400-unit apartment complex to replace an existing 136-unit building known as the Neptune Marina this year. It would also build a 1.5-acre wetland park.
Other projects are planned and many more have been contemplated but are still on the drawing board.
In support of the private development activity, the county is planning infrastructure projects that would include improving Burton Chace Park and the bicycle path through the area, and widening boat slips in the harbor.
"We are continuing to work with all stakeholders in the marina to continue the momentum that's been created and ensure that we see a complete reposition of the marina and maximize its potential for all who want to use it and have used it for the last 50 years," Jones said.
Prev Next