Marina del Rey Harbors Growth Plan
Real Estate: Developers look to plug into Silicon Beach scene.
Monday, February 18, 2013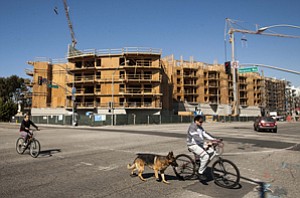 "Seeing these projects now actually start to take shape is very satisfying," said Gary Jones, deputy director of the Department of Beaches and Harbors, which has responsibility for the land and waterways that make up the marina. "It does bring the marina in line with what people now look for when they come to the coast or live by the water."
The timing coincides with the heating up of the commercial and residential real estate markets on the Westside, as the expansion of the tech and entertainment industries draws workers who want to be close enough to the office to walk, bike or skateboard to their jobs.
Price is playing a role for both workers and employers in that process. Younger renters have sought to avoid the crowded and more expensive Santa Monica market, just as businesses have been drawn to the more affordable office space south of that seaside city.
That appeal has not been lost on developers, who have been breaking ground on mixed-use apartment complexes around the Westside at breakneck speed.
Epstein's Shores project broke ground in 2011 after years of legal push and pull with neighbors and a long negotiation with the county, which required him to redevelop the project if he wanted to extend his ground lease.
The new project, which replaces an existing 202-unit garden-style apartment complex, comprises 12 buildings and a central two-acre courtyard designed by Nadel Architects Inc.
The one- and two-bedroom units will range from 750 to 1,225 square feet with monthly asking rents projected from $2,295 to $4,579, according to David Levine, Epstein's chief of staff.
"We are delighted by the upgrades and renovations in the marina as well," he said. "It lifts the quality of life for the entire neighborhood, and we are delighted to be part of the rejuvenation and its environs."
Archstone is betting big on the marina area. It bought a 205-unit apartment building called the Bay Club in October as well as the 224-unit Villa Venetia, now named the Archstone Breakwater, in August, bringing to four its apartment holdings in the marina. Large-scale, multimillion-dollar renovations, including gutting interiors and completely redoing facades, are under way on the properties it purchased last year. It is upgrading the adjacent boat slips with longer, more modern ones. Rents were not disclosed but Archstone's website suggests monthly rents for its marina properties begin around $2,000.
Archstone representatives did not return calls.