Marina del Rey Harbors Growth Plan
Real Estate: Developers look to plug into Silicon Beach scene.
Monday, February 18, 2013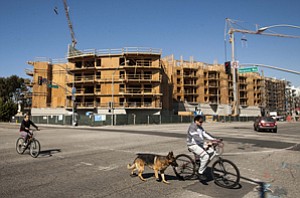 High tide at Silicon Beach is helping lift the boats in Marina del Rey.
Spurred by an influx of technology and creative businesses on the Westside and a slowly rejuvenating economy, a flurry of activity has ignited in the marina, much of it aimed at a younger demographic that populated the area when it was first developed in the 1960s.
The result is a long-delayed development boom, one that could generate as much as $680 million in construction activity in the coming years.
Los Angeles County, which leases some of the 804 acres that comprise the community to developers in a series of long-term deals, has for more than a decade sought to spur new and rehabilitation projects in the seaside community, only to see those efforts stalled by regulatory and economic setbacks.
The county, now in the process of renegotiating leases that were signed a half-century ago, has seen the tide turn amid a resuscitating housing market and an influx of commercial activity on the Westside.
"If you go around to the different shopping centers, the demographic is definitely getting younger," said David Sorenson, vice president of leasing at Jones Lang LaSalle Inc. who brokers deals in the area. "The people I talk to like the fact that they're young professionals that are single and wanting to go out to eat and do things in the evening. I think that will continue to energize the area."
More than 1,100 residential units are expected to be delivered in the next several months, and the long-awaited rehabilitation of the Fisherman's Village retail center and the Marina West Shopping Center should commence in the coming year.
The development activity marks a financial boon to the county, which a decade ago hoped the build-out would be completed this year. A 2011 county report found that ground leases generated $38.8 million for the county annually, plus an additional $5.1 million in transient occupancy tax and $11 million in property tax revenue. When all the proposed projects are completed, $9.5 million more in annual leasehold rent is expected to land in county coffers.
Fresh and refreshed
The largest project under way is developer Jerry Epstein's Shores, a $165 million, 544-unit apartment complex on Via Marina that will open this spring. Archstone, a large Englewood, Colo., apartment investment and management company, is renovating the two apartment properties it bought in the area last year and might rehab others in the market already in its portfolio.
For reprint and licensing requests for this article, CLICK HERE.
Prev Next