Ad Pioneer Sees Online Opening
Internet: Rubicon fights larger rivals to stake out turf.
Monday, February 18, 2013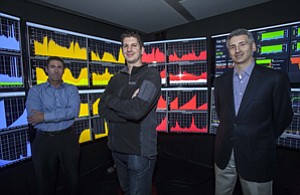 "Real-time bidding is something that a lot of advertisers are looking at more closely," said Clark Fredriksen, a spokesman for eMarketer. "The exchanges and publishers who use it are definitely poised to benefit."
Rare company
Should Rubicon decide to have an IPO, it would be among the few companies dedicated to the ad exchange market that are publicly traded. Many of its biggest public competitors, namely Google or Yahoo, have well-known properties attached to their names. But among Rubicon's smaller ad tech competitors, such as Redwood City's Turn Inc. or New York's Pubmatic Inc., most have remained closely held. They are often considered desirable takeover targets from their larger public competitors. Rubicon has been rumored as an acquisition for Yahoo, but Addante said the company has no plans to sell anytime soon.
One of the reasons so few ad exchange companies have gone public could be that their sophistication and behind-the-scenes relationship would be a tough sell for public markets.
"The ad tech market is overwhelmingly complex, there are even people inside the industry who have a difficult time understanding it," eMarketer's Fredriksen said. "So it's understandable that people outside the industry would have the difficulty grasping the nuances of these systems."
For now, Addante and his new top executives say they're only focused on growing the firm's reach online as well as expanding to new platforms.
Last May, Rubicon acquired MobSmith, an ad tech firm focused on mobile devices. That purchase has served as the company's gateway into the growing smartphone and tablet market. It's still a developing field for advertising and it's one where Rubicon executives say the firm will continue to expand its focus.
"This company is uniquely positioned to be the alternative to the big players in advertising," Raifman said. "We believe there's Facebook in social, Google in search and Rubicon in everything else."
Prev Next