Shoo-In
Honest Co. Chief Executive Brian Lee doubled up on duties by stepping back into the top position at ShoeDazzle.
Monday, February 11, 2013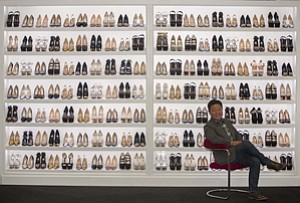 How helpful was it to have him as a co-founder?
When we started LegalZoom we didn't have any money to market. Bringing Robert Shapiro on board showed me the tremendous ability of celebrities to get you initial traction. We would have had to spend millions of dollars to get the type of traction that he gave us. He would pick up the phone and be on "Today" show or Larry King, talking about LegalZoom. That was invaluable back then.
How did you transition from the legal world to shoes?
My wife loves shoes. She went shopping once at this boutique she likes and I saw the price of the shoes and I freaked out. I asked why she didn't just go to DSW or Shoe Pavilion. She basically told me that it's not the same feeling. She said, "The woman at this boutique really understands my style. I go in and we talk about fashion. I drink coffee with her. We talk and she brings out stuff for me to try on. I walk out and I feel beautiful. I feel pampered." I knew that that was nonexistent online. That was the genesis of ShoeDazzle.
Why did you leave ShoeDazzle to start Honest Co.?
ShoeDazzle was on a great path. We'd just recruited that CEO. I felt that I had the time to go and start something new. Jessica Alba probably approached me about three years ago and I didn't have the time back then. But I felt like my time was freeing up and I wanted to go do something new. And so I got back together with Jessica to discuss the business idea in more detail. To her credit, she had done a lot of work already. But what she needed help with was organizing everything she had been working on and making it a real business.
You're one of the rare chief executives of two companies. What's that like?
I have a great team at Honest Co., too. Without that, there's no way I could do both. It's fun. I don't consider it work. I love coming into the office. I love working with these teams.
What's a typical day like?
My workday starts at 7 a.m. when I get to Honest Co. I have my coffee meetings and I meet with the team to discuss strategy. Then I go to ShoeDazzle. Luckily they're right down the road from each other. I'm there until about 3 or 4 p.m. Then I go back to Honest Co. and I'm there until 8 or 9 p.m. It's a long workday for me. But, again, I don't consider it a workday.