Shoo-In
Honest Co. Chief Executive Brian Lee doubled up on duties by stepping back into the top position at ShoeDazzle.
Monday, February 11, 2013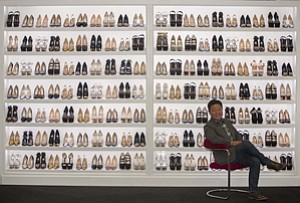 What was it?
I would plan out my Halloween route for trick or treating. I would be the first one out on the block with a big pillowcase. By the end of the night, I'd have a big bag of candy. At night, I'd put four candies in a Ziploc bag and sell them at school for 25 cents. I remember one time my father came to me and asked what I was doing. My dad thought it was so fun that he'd sit with me and we'd fill these Ziploc bags.
He didn't get mad at you for reselling the candy?
No, he thought it was awesome. The cost of goods was zero. Take out my labor, which was nothing, and it was a good business.
Are you always looking for new businesses to start?
I think of ideas all the time. I'm constantly thinking about new businesses, which is why I've started three of them now. I think I'd be happiest going to my grave knowing that I've tried everything I wanted to try.
What's your goal for ShoeDazzle now that you're back?
When we started the business, we set out to accomplish a vision for ShoeDazzle. I feel like it's in my hands again and that I can move the company forward toward the vision.
Was it a mistake to get rid of ShoeDazzle's subscriptions?
It was a strategic decision that was made, but right now we're much more focused on bringing back that engagement, so we're launching membership programs again.
What will that new subscription look like?
It's not going to be the same program as before. It's tough to get a woman to sign up for $39.95 once, let alone have her sign up again. We are taking a very different approach. It's more of a hybrid. They can choose to subscribe or they can buy at the regular price.
Why did you first introduce the subscription – which was already popular with CDs, books and wines – to e-commerce in 2009?
For subscription models to work, there has to be a need for that product or a very strong desire for that product. That's why it worked in music. That's why it worked for wine. That's why it works for shoes. At the right price point, women could purchase shoes on a monthly basis with no qualms. Coming from LegalZoom, where most of our revenue was one-off transactions, I knew that I wanted a company that has a lot more repeat purchasing.