FAX FIRM J2 ADDS SECOND LINE AS WEB PUBLISHER
Dialed In
Monday, February 11, 2013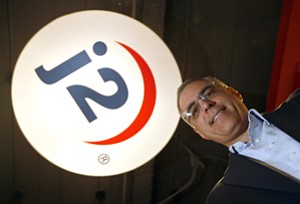 Fax checking
J2 was able to branch out from its core business as an online fax provider because that service has been so consistently profitable. The company's most lucrative segment is Efax, which itself came to J2 through a 2000 acquisition.
Online faxing lets customers – many of them small businesses – send and receive documents using a digital, Web-based system. That means the customer doesn't need a fax machine and a dedicated auxiliary phone line. Faxing is still considered a more secure way of sending documents than email and is popular in the health care and insurance industries, as well as other enterprise markets that deal with sensitive materials.
The online faxing business has favorable margins for J2, and in the quarter ended Sept. 30, the company reported net income of $32 million on revenue of $93 million. When it releases its year-end earnings Feb. 13, J2 is expected to surpass its 2011 sales record of $330 million.
Turicchi is quick to point out that the company has already expanded beyond faxing; it also offers cloud-based phone and data backup services. Still, prior to the media acquisitions, the fax business made up 76 percent of J2's overall revenue. That's soon to change.
Ziff Davis was fresh out of bankruptcy when J2 swooped in. The publisher, whose roots reach back to the 1920s as a printer of hobbyist magazines, had a difficult time transitioning to the online world. PC Mag, once a top source for computer shoppers, lost some value as consumers began hunting for computer reviews and bargains online. Ziff Davis also owns computer and gadget review sites Geek.com and ComputerShopper.com.
J2 purchased Ziff Davis, which company executives said will add $60 million to its 2012 revenue, for $167 million in an all-cash deal.
Although J2 executives hailed the acquisition as the grand unveiling of the firm's new ambitions as a media owner, buying up another marquee digital media company in IGN so quickly was a bit of a surprise. It was like a couple getting married and finding out a few days later they were expecting.
"I was hoping for an IGN-type deal a few months down the road," Turicchi said. "Instead it literally started happening in the following weeks."
IGN's network of Web properties includes IGN.com; AskMen.com, a male-oriented lifestyle site; and 1UP.com, also a video game reviews site. News Corp. purchased IGN Entertainment in 2005 for $650 million; the sale to J2 was reportedly about $100 million.