Dialed In
Fax firm J2 adds second line as Web publisher
Monday, February 11, 2013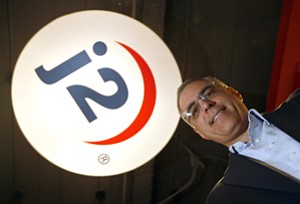 On TV's "30 Rock," the fictional version of NBC was once a subsidiary of the Sheinhardt Wig Co. In the real world, one of the Web's most popular gaming communities is now an arm of a fax company.
In fact, that local online faxing giant is transforming into something of a media conglomerate.
In the past few months, Hollywood's J2 Global Inc. has surprised the technology and media industries by acquiring a pair of high-profile digital properties.
In November, it picked up Ziff Davis Inc., a San Francisco online publisher with a handful of Web properties, including flagship PCMag.com.
This month, J2 won the frenzied bidding for IGN Entertainment Inc., a collection of news and review sites focused on video games that its previous owner, New York's News Corp., had been shopping around. IGN.com, the biggest of IGN Entertainment's holdings, is consistently among the most visited video game websites.
Suddenly, with two major purchases in less than 90 days, the media industry was given notice of a new player whose emergence is as rapid as it is unlikely.
"When they first took Ziff Davis, it was out of left field; no one was expecting it," said Greg Burns, an analyst with Sidoti & Co. in Yonkers, N.Y. "The company has a good track record of mergers and acquisitions, but this isn't your grandfather's J2."
In truth, J2 has been hinting at an oncoming shopping spree since its last earnings call in early November. The company reported it had nearly $300 million in cash and executives at the time said that the money would be used for acquisitions, which are integral part of J2's history. Since 2000, J2 has purchased more than 40 companies.
Until recently, all its acquisitions were made to bolster its existing online fax and cloud services business. There were no indications of J2's nascent interest in becoming a major digital content owner like News Corp. or AOL Inc.
J2's president, Scott Turicchi, who heads the firm's mergers and acquisitions, freely admits his company is a digital media ingenue. Buying Ziff Davis, then, was a strategy to bring the online faxer two skills the company would need as it entered this new market: experience and legitimacy.
"We needed a team with properties in the media world that had demonstrated success," Turicchi said. "Buying IGN was not a transaction we could have done without Ziff Davis. News Corp. would have said, 'Who are you? You have the money, but we've never heard of you.'"
For reprint and licensing requests for this article, CLICK HERE.
Prev Next