Deja Vu Develops in Pursuit of Cancer Treatment
BIOTECH: Soon-Shiong reacquires research from buyer of his Abraxis firm.
Monday, February 11, 2013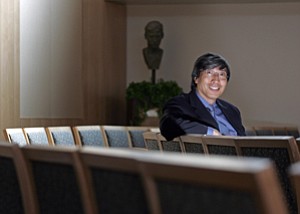 Chemistry will promote FitOrbit as a service on its site.
"I can't think of two businesses that are more natural partners," Steinfeld said. "Our two brands give consumers the ability to take control of their lives and change them with speed and convenience. We also know that joining a dating site encourages people to get in shape."
FitOrbit, a subscription service founded in 2009, has signed similar partnerships with other businesses, including Carlsbad weight loss and nutrition company Jenny Craig Inc.
North County Expansion
Kaiser Permanente has begun construction of a medical office building in Lancaster for its members at the northern edge of Los Angeles County.
The 136,000-square-foot facility, which when completed in late 2013 will be the city's largest medical office facility, will offer space for 66 health care providers. It also will include three major outpatient procedure rooms, a chemotherapy and nonchemotherapy infusion center, imaging, laboratory and pharmacy. Kaiser already operates smaller offices Palmdale and elsewhere in Lancaster.
Located at Avenue L and Fifth Street West, the Kaiser Permanente Specialty Medical Office Building also will be the first Kaiser Permanente building of its type in the region built to qualify for Leadership in Energy and Environmental Design platinum certification from the U.S. Green Building Council.
The Kaiser building isn't the only significant health care construction under way in Lancaster. City of Hope in Duarte is building a cancer center next to Antelope Valley Hospital. The center is expected to open later this year.
Staff reporter Deborah Crowe can be reached at dcrowe@labusinessjournal.com or (323) 549-5225, ext. 232.
Prev Next