BIOTECH: SOON-SHIONG REACQUIRES RESEARCH FROM BUYER OF HIS ABRAXIS FIRM.
Deja Vu Develops in Pursuit of Cancer Treatment
Monday, February 11, 2013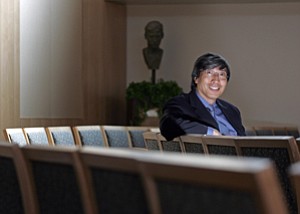 Dr. Patrick Soon-Shiong has rolled out another health care company and announced two new high-tech care programs in the L.A. biotech billionaire's ongoing effort to revolutionize disease treatment and health care delivery.
Soon-Shiong's new company, NantOmics, is developing cutting-edge research that he bought back from Celgene Corp., which purchased his West L.A. business, Abraxis Bioscience Inc., for $2.9 billion in 2010.
Soon-Shiong, a former UCLA cancer researcher, tops the Business Journal's list of Wealthiest Angelenos.
Celgene, a Summit, N.J., drug maker, was more interested in the billion-dollar blockbuster potential of Abraxis' cancer treatment Abraxane than the early stage research that Soon-Shiong was developing at the time of the sale.
In a discussion with the Business Journal last week, Soon-Shiong noted that the challenge that cancer patients often face is comparable to playing the arcade game Whac-A-Mole, as the disease can reappear more resistant than it was before treatment.
"We have to keep the mole, or cancer, from coming back in a harder-to-treat form," he said.
NantOmics' technology aims to stay a step ahead of a mutating cancer with kinase inhibitors, a type of enzyme that can be used in conjunction with Abraxane and other cancer drugs. A UCLA study of 40 pancreatic cancer patients showed promising signs that the approach can block a tumor from forming new blood vessels that it uses to feed itself.
Soon-Shiong said a larger study is planned.
For now, NantOmics, which is part of the NantWorks LLC family of companies, is financed primarily by Soon-Shiong's California Capital Equity fund.
Also, NantWork's NantHealth company is preparing to roll out two initiatives that leverage information technology to improve treatment. The first is Advanced Cancer Care for Life, which NantHealth is running in partnership with Blue Shield of California. It will test in California first and focus on a providing more integrated approach to cancer treatment.
The second is America's House Call. It combines computer monitoring of patients being treated for cancer and other diseases with traditional house calls as needed by a network of doctors and nurses.
"NantOmics is the pharmaceutical company for the 21st century, with NantHealth the advanced health care delivery system that aims to transform the way we deliver health care," Soon-Shiong said.
Matchup
Fitness guru Jake Steinfeld's FitOrbit.com personal training service has launched a partnership with a Match.com premium dating site in time to take advantage of the Valentine's Day marketing season.
The premium dating site, Chemistry.com, is a subsidiary of Dallas-based Match.com. It uses a proprietary test that clients can take before a first date. FitOrbit offers a subscription service that matches clients with the right online personal trainer who will create a customized nutrition and fitness plan.
Prev Next