Defense Contractor Cops to Pursuing Police Work
Technology: Raytheon looks to connect with first responders.
Monday, February 11, 2013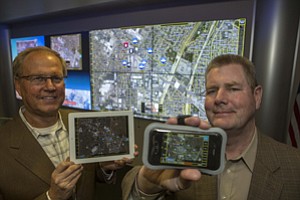 Demand at home
Defense contractors' attention to domestic markets comes as the development of readily available consumer technology outpaces traditional police radios and as BlackBerry smartphones, long a staple of government communications technology, continue to lose market share. As a result, police and fire agencies have increasingly turned to mobile devices running popular operating systems, and defense companies have stepped into the gap.
"All these companies are going to be looking for related markets," said Byron Callan, an analyst at Capital Alpha Partners LLC in Washington, D.C., who covers the defense industry.
He said Raytheon is further along in pushing into the public safety market than most other defense companies. The company's experience developing networks for the Defense Department has helped.
"They've put the organizational structure and the team in place to go pursue it," he said.
Yet efforts to branch out into state and local markets and commercial business have not been universally successful, Callan said. "In the past you saw defense contractors go much further afield in commercial markets that didn't necessarily work out."
Raytheon is seeking to address that potential pitfall as it pushes ahead with its technology for state and local agencies by making changes and taking feedback as local departments test the company's apps.
In a November test, Downey police used the One Force app to assist them as they dealt with California's prison realignment program.
The state requires parolees to declare a city of residency and notify officials of their addresses. Downey police used the app in a sweep aimed at verifying that parolees registered in the city were who they said they were and living where they were supposed to be. Commanders used the maps to track the 30 officers involved and to share information about the parolees, including photos.
"The key element was that it enabled command post personnel and command teams to check the status and locations of all the units involved," said Downey Police Capt. Dean Milligan.
The department found that using an iPad during the sweep could be difficult because officers needed to keep their hands free as they visited locations. Based on that feedback, Raytheon is working on ways for officers to wear their app-equipped smartphones, by using arm straps, for example.
Raytheon's public safety unit plans to expand as it secures new contracts and works on other projects, such as LA-RICS, an in-progress wireless communication system to support 34,000 first responders in Los Angeles and surrounding cities.
"There are a lot of people who want the technology," Bostic said. "It's the wave of the future in public safety. It's about time they get the same support that everyone else gets."
Prev Next