Verizon Makes Call on Content Delivery Network
INTERNET: Telecom giant snaps up EdgeCast to move deeper into mobile.
Monday, December 16, 2013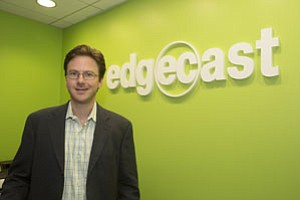 The company, co-founded in 2007 by a group of serial entrepreneurs, is on pace to have revenues of $100 million this year, according to executives; they also maintain it is profitable. That fueled speculation EdgeCast was headed toward an initial public offering in 2015, something the co-owners declined to comment on.
Donna Jaegers, a Seattle analyst with brokerage D.A. Davidson & Co., said that might have proved a difficult course for EdgeCast. The CDN industry is dominated by Boston's Akamai Technologies Inc., which controls nearly one-fifth of the world's Web traffic. There are other publicly traded CDNs, such as Limelight Inc. of Tempe, Ariz. But Limelight has never posted a profitable quarter and its stock, which debuted at $22.18, has plummeted to hover around $2.
"If you were looking at how public CDNs have fared, Akamai is the only one that's done well," Jaegers said. "EdgeCast could have been looking around worrying about how they are going to grow."
New fight?
Although EdgeCast is now destined never to go public, executives there expressed excitement about being underneath the Verizon umbrella. As they see it, the new parent has the firepower – and the bank account – to carve out a bigger niche in the content delivery marketplace.
"We now have the resources of a Fortune 15 company and a massive global network," said EdgeCast President James Segil. "I look forward to a healthy future. I certainly believe we have a tremendous competitive advantage."
In buying a CDN, Verizon puts itself in a somewhat awkward position with Akamai. Verizon has been a CDN reseller, having sold Akamai's service under the Verizon label. Executives there did not indicate whether that partnership was over after the EdgeCast deal, but multiple analysts said its continuation was unlikely.
Locally, EdgeCast's sale will bring a return to a number of L.A.-based investors. Much of the company's early funds came from Steamboat Ventures, the investment arm of Burbank's Walt Disney Co. A few local angel investors have also contributed at the seed level, including Mark Mullen of Mull Capital and Clark Landry.
Segil, an L.A. native, said the recent EdgeCast and Docstoc deals serve as an indication that the local tech scene is finally catching the eye of wealthy outsiders.
"It's a nice crowning achievement that this kind of news hit the marketplace," he said. "It's a validation of our community that the global operators are paying attention to what we're doing."
Prev Next