INTERNET: TELECOM GIANT SNAPS UP EDGECAST TO MOVE DEEPER INTO MOBILE.
Verizon Makes Call on Content Delivery Network
Monday, December 16, 2013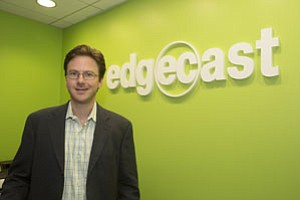 In another eyebrow-raising acquisition of an L.A. tech company, Verizon Communi-cations Inc. announced last week that it planned to buy Santa Monica content delivery network EdgeCast Networks Inc.
EdgeCast will function as Verizon's main provider of content delivery services and is part of the Basking Ridge, N.J., telecom provider's effort to expand its digital offerings. EdgeCast will remain in its Santa Monica offices, where it houses most of its roughly 200 employees; it hasn't been determined whether EdgeCast will keep its name.
Though the terms of the deal, which is still pending approval by the Justice Department, were not disclosed, multiple outlets pegged it at just under $400 million.
EdgeCast's purchase marks the second big L.A. tech transaction in as many weeks. On Dec. 4, Santa Monica online document library Docstoc Inc. announced that it had been acquired by Mountain View enterprise software maker Intuit Inc. for a reported $50 million.
Content delivery networks, or CDNs, provide websites and apps with redundant servers at multiple locations to speed up and support online connections. They're essential components of the Internet's infrastructure, particularly as people transfer more data over mobile devices.
EdgeCast lists more than 6,000 companies among its client base, including Twitter, Tumblr and Yahoo.
For Verizon, picking up EdgeCast is meant to fortify its delivery of video content, which has become a major component of all Web traffic. In the next three years, more than two-thirds of global Internet bandwidth will be consumed by video, according to a report from Cisco Systems. That report also projected more than half of all Web traffic will be routed through CDNs.
Verizon partnered with video distributor Redbox last year to offer a movie streaming business and has been pursuing an arrangement with the National Football League to stream its games direct to mobile.
"This is clearly the next step forward for our video strategy because we know that's where consumption is going," said Bob Toohey, president of Verizon Digital Media Services. "It's a great alignment given our companies' very clear paths."
A source close to EdgeCast said potential buyers had been circling the company for some time. Content delivery is a capital-intensive service and smaller providers are routinely acquired by large competitors.
A few months ago, EdgeCast raised a $54 million series D round, led by private equity firm Performance Equity Management in Greenwich, Conn. That brought the company's total investment to $74 million, which has been used largely to build a global presence, including new server locations in South America and Europe. Recently, EdgeCast rolled out services targeted at specific Web businesses, such as a network dedicated to e-commerce.
Prev Next