Fairfax Exodus
Jewish stores give way to burger places, hip-hop shops
Monday, December 16, 2013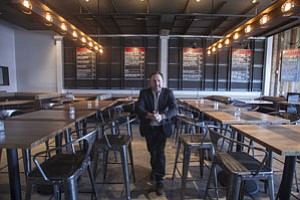 "Our major concern is the parking issue. We have no parking, and that is crucial because they end up parking on our streets," she said. "We have a lot of problems along that area and that does not make for a great relationship."
Heller has secured his own 44-space parking area nearby, but other local restaurateurs agree parking is one of the biggest problems the area faces.
Jacqueline Canter, a manager at Canter's and chairwoman of the Fairfax Business Association of Los Angeles, said her employees and customers have difficulty finding parking, especially when shops draw an influx of shoppers on days they offer limited-edition apparel.
Starr said that the lack of parking would it make it difficult for future restaurants wanting to come to the district.
"There's no good public parking options at all," he said. "The restaurant and bar parking spaces are what they are. It'd be hard for someone to start from scratch."
Natural transition
The influx of restaurants has, by some measure, been a long time coming.
Nicole Mihalka, a Jones Lang LaSalle senior vice president who works with properties around Hollywood, said the area has flourished for the past decade because of the dense residential areas and surrounding the street as well as the arrival of the Grove not far to the south in 2002.
"When the Grove came in, you saw high-end retailers start to move into the area," Mihalka said. "Then the rent started going up and there were quite a bit of businesses that had been on Fairfax (near the Grove) for 30 years that were priced out."
The traditionally less expensive storefronts near Canter's began to be squeezed from the north as well.
Ed Sachse, executive managing director at Kennedy Wilson Inc.'s brokerage group in Beverly Hills, said cheaper rent led shops catering to youth culture to Fairfax a decade ago.
"Streetwear companies were attracted to areas like Melrose Avenue," Sachse said. "But the rents on Melrose grew higher and the economics drew the shops to Fairfax."
Even as rents have risen to as high as $3.25 a foot a month, nearly twice the levels of 10 years ago, the strip is still cheaper than nearby Melrose Avenue, which Sachse said costs about $5 to $6 a square foot each month for a boutique shop.
Streetwear stores like New York's Supreme, which opened in 2004, was one of Fairfax Avenue's early adopters. San Francisco's Diamond Supply Co. and hip-hop group Odd Future's retail shop, Golf Wang, both opened in 2011. Crooks & Castles, another streetwear shop, arrived in October.