Fairfax Exodus
Jewish stores give way to burger places, hip-hop shops
Monday, December 16, 2013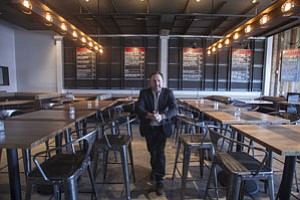 Terry Heller used to stroll around Fairfax Avenue as a child, walking with his grandparents to Canter's Deli and visiting the tchotchke stores and kosher bakeries.
Canter's remains along with a few other holdouts, but many of the old Jewish shops on Fairfax between Beverly Boulevard and Melrose Avenue have moved out. Moving in: streetwear shops and trendy eateries, creating an incongruous amalgam of old world and hip-hop cultures that has created both opportunity and tension.
Heller, while waxing nostalgic for the old days and old ways, is nevertheless taking advantage of the opportunity in the evolution of the half-mile strip, opening Plan Check Kitchen and Bar, a 4,000-square-foot restaurant and bar serving a modern take on fried chicken and burgers.
Plan Check is one of three restaurants that opened up on Fairfax in the last three months – another is expected to open soon – all drawn by the traffic generated by popular streetwear stores that have popped up on that stretch in recent years.
James Starr, an owner of burger shop Golden State, was a pioneer of the new wave of eateries, opening five years ago in response to the emerging cultural scene. Now, he welcomes the two new neighboring burger shops in hopes that it will create a larger restaurant district.
"We look at it as a positive with all the restaurants coming in and cultivating the area as a food destination," Starr said. "It's almost like it has become hamburger row."
But the idea of Fairfax as a foodie paradise and youth apparel zone has created tension with the old businesses and residents.
"The shops that came in no longer catered to the area," said Simon Rutberg, who used to own a Jewish music shop on Fairfax. "Now it's a rough crowd. There's graffiti everywhere and stickers on the lamp posts and parking meters. There are times you walk down there and you wonder where you are.
"Is this what they want? They already have to pay high rent. It's horrible and it's disgusting."
Rutberg added that in addition to new businesses moving into the area and increasing the rent, the Jewish population has been slowly moving out of the area and into the San Fernando Valley.
Diana Plotkin, president of the Beverly Wilshire Homes Association, said that while her group objects to restaurants staying open past 11 p.m. and serving alcohol, it is even more concerned with a lack of parking needed to accommodate all the additional activity generated by the restaurants.
Prev Next