Date App Makes Move on Friends
Internet: Tinder gets serious about moving beyond romance.
Monday, December 9, 2013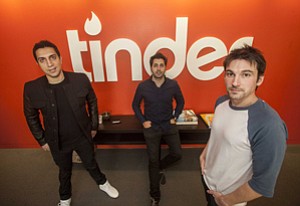 Yagan said IAC has been Tinder's only source of capital, adding that the media conglomerate does not plan to raise outside funding for the startup, which does not generate revenue.
Though Tinder has all the hallmarks of a dating app, Rad and Mateen object to labeling it that way.
"People are using it primarily in the context of dating right now," said Mateen, the company's chief marketing officer. "But as we evolve the product, it's going to be more about social discovery in general."
The company took its first step toward expanding beyond romance with its latest update, which allows people to categorize their conversations based on the nature of their relationship. Rad alluded to future updates that would further expand on that idea.
Justin Caldbeck, a partner at Menlo Park investor Lightspeed Venture Partners, which funds many consumer apps, is bullish on Tinder's future as a broader social tool.
"I think it's often miscategorized as a hookup app," he said. "The reality is that I think it's got the opportunity to be much bigger than even a dating app."
While IAC is fully behind the company, Yagan said Tinder's legacy as a dating app could make it difficult to transition.
"There's always going to be tension between how much do you push the thing that you're clearly one of the best at versus expanding into something that would be totally new to you," he said.
Tinder isn't the first dating service to look for alternate audiences. EHarmony founder Neil Clark Warren has said that he wants to add employee- and friend-matching services to his Santa Monica dating site. Meanwhile, New York matching site HowAboutWe has added a membership service to help couples plan interesting dates.
Laurie Davis, founder of New York online dating consultancy eFlirt Expert, said dating services have long had concerns about losing customers.
"The problem with online dating sites or apps from a business model perspective is that once someone finds love or finds a fling, you lose a user," she said. "That's always been an issue in the industry and something that companies are trying to find a way around."
Tinder claims that people are already staying on their site after making successful matches and it is updating the app to reflect that behavior.
If Tinder can successfully broaden its focus, it could be primed to introduce its first revenue stream. Rad said the plan is to add in-app purchases while keeping the app free. For example, a guy could send a gal a bouquet of flowers via the app.