Branching Out
Live-tree firm sprouts elsewhere after billionaire buys in
Monday, December 2, 2013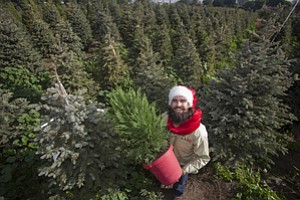 Sustainable start
Martin, 34, is a landscape designer by training and practice. With a background in regenerative studies, he founded Living Christmas on principles meant to promote the health of the environment.
As part of that, renters can choose to "adopt" a tree, opting to have the same tree return to their home year after year. The company, which expects to hire about 45 seasonal employees to deliver and later retrieve trees this season, also makes an effort to hire 50 percent of its staff through the local Veterans Affairs office.
But sustainability comes at a cost. At a traditional cut tree lot in Los Angeles where a buyer can pick out a tree and take it home atop the family car, a tree that stands between 6 and 7 feet tall might cost between $60 and $90. A comparable potted tree from Living Christmas costs anywhere from $130 to $165, depending on species. Choices include Aleppo pine, blue spruce, leylandii cypress, Monterey pine and white spruce. Further, Living Christmas charges a fee of between $30 and $100 depending on the size of the tree for delivery and pickup.
Martin said the company had revenues last year of about $185,000 and he anticipates generating closer to $225,000 this year; the deal with Cuban valued the business at $375,000.
In addition to the equity investment, Martin said Cuban gives him weekly advice on business strategy, operations and goals.
"Having Mark Cuban as a resource helps open doors for us in many ways because it gives potential partners the assurance that we have the staying power to execute on our commitments," he said.
(Earlier this year, the Business Journal reported that the producers of "Shark Tank" have the option to take either a 5 percent equity stake in businesses appearing on the show or a 2 percent royalty on operating profits. Martin, citing confidentiality requirements, declined to say whether they exercised that option with Living Christmas.)
Though the market is vast and Living Christmas offers a premium product, Christian Geismann, a senior manager and national leader for sustainability services for accounting and advisory firm Moss Adams in Seattle, said conscientious consumers are generally willing to pay extra for products that tout social and environmental sensitivity – but only to a point.
"There are price points for everything," he said. "Companies need to be careful not to overestimate the power of sustainable products. The principles of economics still apply."