Branching Out
Live-tree firm sprouts elsewhere after billionaire buys in
Monday, December 2, 2013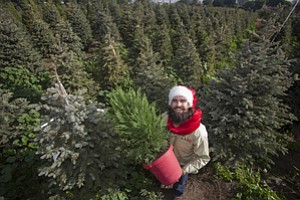 Like its product, Living Christmas Co. is growing slowly but steadily.
The Redondo Beach business, a seasonal enterprise run by landscape designer Scott Martin that rents live potted Christmas trees, is expanding beyond Southern California this year to offer its live trees in Marin County.
The expansion is just one of the ways the company has seen a boost after Martin appeared on ABC's reality television series "Shark Tank" last fall. On the show, Dallas investor and entrepreneur Mark Cuban agreed to invest $150,000 for a 40 percent stake in the company.
The company used the investment to hire part-time nursery managers in the off season as well as upgrade its website and marketing initiatives. It also expanded a relationship it had with Shell Oil Co. that allows the company to care and store trees on a 40-acre site in Carson in exchange for maintaining the land.
Living Christmas rents trees that, planted in 20-gallon pots, stand between 2 and 15 feet tall. Customers order the trees online and the company delivers them in leased trucks – saving hundreds of single car trips in favor of more efficient delivery routes – then picks up the trees three or four weeks later to store until the next holiday season.
"We structured the company to have a net benefit," Martin said. "Yes, it's saving a tree, but it's more than that. Community is part of your environment, too."
One of many small players in a $1 billion U.S. industry, Martin started by renting only about 120 trees in his 2008 debut season. He rented about 1,500 trees last year and hopes to bring that nearer to 2,000 this year. The National Christmas Tree Association, a non-profit trade group in Chesterfield, Mo., estimated that 24.5 million Christmas trees were sold nationwide last year.
Rick Dungey, public relations director for the tree trade group, said the market has plenty of space – and demand – for niche sellers who cater to the widening needs of consumers, particularly businesses that offer convenience without sacrificing living boughs for plastic branches.
"In general, people who want to buy a tree to decorate for Christmas don't want a big green toilet-bowl brush," he said. "They're demanding more variety in a lot of different ways: different sizes, shapes, species, delivery methods. I think there's an underserved market all over the country of people who would get a real tree and decorate it if given more choices and options."
Prev Next