SPECIAL REPORT: INNOVATION / TECH TRANSFER:
ARMORWAY INC.
Monday, August 12, 2013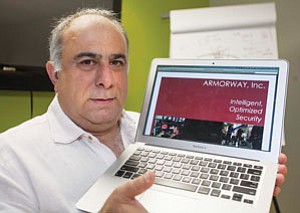 EDITOR'S NOTE: From a security software maker to the developer of an implantable spinal cord neuromodulator, the Business Journal highlights seven spun-out ventures looking to ride the lab coattails of USC, UCLA and Caltech.
USC: ARMORWAY INC.
Product: Simulation software that agencies can use to plan randomized security patrols
Chief Executive: Zareh Baghdasarian
Year Founded: 2013
Location: Los Angeles
What does the product do?
Armor software uses analytics to plan security resource allocation to mitigate risk at optimum cost. Its game theory-based computation automatically generates security resource allocation plans and policies that improve security.
What was the idea that led to the creation of the company?
The idea and the product were created as a result of different law enforcement agencies, in particular Los Angeles World Airports police and the United States Coast Guard, approaching USC with the challenge of how to deploy their limited resources intelligently.
What has been the benefit of spinning the company out of USC?
It has allowed the team to look beyond the benefits and application in the current field of use and look toward all fields of security application where risk mitigation and resource optimization is a crucial part of intelligent security planning.
What has been the biggest change since spinning off?
The first change has been re-engineering the product from a pure research product into a solid commercial software product that could be easily expanded and deployed in various fields. Another challenge has been widening the scope of the product to be more flexible in offering solutions to all fields of use rather than any one specific environment.
How can the product change society?
The product has already changed our society by providing better security for everyone. Armor has been deployed by several governmental agencies to protect different types of security assets, including the Los Angeles County Sheriff's Department, the Coast Guard, the Federal Air Marshal Service and at Los Angeles International Airport. Our products make security planning intelligent, faster and more efficient to defeat adversaries and help keep our nation safe.
If you could go back in time and do something differently, what would it be?
We would have launched the company and startup much sooner.
What were some of the challenges in developing the company?
Securing needed funds for growth and sustainability.
What's next for the company?
Securing series A funding, and offering solutions in other security fields such as major sporting and entertainment events, and the cyberdomain.