What Kind of Game Are They Playing?
Riot scores athlete visas to field top names for 'e-sports' tourney.
Monday, August 5, 2013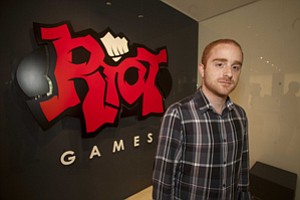 The phenomenon is hardly new in other countries. In South Korea, competitive gaming has long surpassed other sports to be the country's true national pastime. Top players there are rock star popular with adoring mobs and lucrative sponsorship deals.
Koreans' love of competitive gaming emerged in the late '90s with seminal strategy-combat game "StarCraft," published by Irvine's Blizzard Entertainment Inc. Though Americans are arriving later to the scene, the newest generation of gamers could have the country fast catching up.
"Traditional sports are culturally ingrained with people when they grow up," said Jason Xu, co-founder of Battlefy, a Vancouver, Canada, startup that builds gaming communities. "This generation of kids is culturally ingrained to know what first-person shooters are. To them, 'StarCraft' and 'League of Legends' are more relevant than football."
Major 'League'
"League's" rise to becoming the most played computer game in the world has been fast.
Riot was formed in 2006 by Brandon Beck (Dustin's brother) and Marc Merrill, two friends from USC.
Released in 2009, "League" entered an already mature landscape of competitive gaming where "StarCraft" and "Defense of the Ancients," also known as "Dota," were the titles of choice.
Riot's game, with its comparatively simple game play and early stigma as a "Dota" knockoff, caused many in the community to overlook it.
"When the 'League' first launched it wasn't a massive out-of-box success," said Sundance DiGiovanni, co-founder of Major League Gaming, a gaming-specific broadcaster in New York. "What Riot did was iterate the game's development to keep it fresh and really take ownership over its community."
Riot has remained committed to "League of Legend's" free-to-play model, where downloading and playing the game costs nothing. All of Riot's revenue from "League" is from in-game purchases – largely cosmetic additions such as character skins. No purchases can improve a player's skill; that would be "pay to win," which is treif in a gaming community that fancies itself a meritocracy.
Riot executives did not disclose the company's revenue, but have reported in the past that the company has been profitable for the past two years.
In 2011, Tencent Holdings Ltd., a Chinese conglomerate with a collection of media and Internet properties, paid $400 million for a majority stake in Riot. Dustin Beck describes the Chinese firm as a silent partner that is uninvolved in the firm's day-to-day decisions.
Riot's growth as a company rides atop the massive success of its only product. The company has 1,000 employees worldwide, with 800 of them bursting the seams of the Colorado Center in Santa Monica. There are plans of moving as early as next year into a massive Playa Vista complex, which would feature a full studio for the weekly Championship Series tournaments.