What Kind of Game Are They Playing?
Riot scores athlete visas to field top names for 'e-sports' tourney.
Monday, August 5, 2013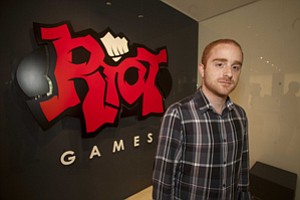 Video gaming is a sport and the people who play are athletes.
Disagree? Take it up with the U.S. government.
Riot Games Inc., a fast-growing Santa Monica game maker, was recently approved by the State Department to arrange special athlete visas for professional foreign players of its PC game "League of Legends."
So the same provision that allows Cuban-born Yasiel Puig to play for the Dodgers can now import gamers to compete in an American tournament league – weekly events that have almost singlehandedly taken the genre of "e-sports" into the mainstream.
For Riot, the Feds' stamp of approval was a major victory and the result of a highly engaged and calculated campaign to establish gaming beyond the margins of a niche hobby.
"This was a watershed moment for e-sports," said Dustin Beck, who heads Riot's newly minted e-sports department. "It's existed for a while but we've always been the red-headed stepchild in sports. This was big."
Real-time-strategy game "League of Legends," which pits teams of five against each other in a battle royale where the object is to destroy the opponent's base (or "Nexus"), might be abstruse for an outsider.
But the 12 million people around the world who play the game every day are a substantial, and growing, group of insiders, eager to establish the country's newest sport and what they see as a coming economic powerhouse.
Consider: Last year, the world championships for "League of Legends" were held at USC's Galen Center. This October, it will take place at Staples Center.
And the thousands of people of who are likely to sell out the arena are only a fraction of the worldwide audience. While Riot executives are loath to predict the numbers, more than one expert puts 18 million as a conservative estimate of how many people will stream the event. The overwhelming majority will be men in the coveted 18-24 demographic, which bests many other sports' audiences and has lured major sponsors.
Right now there are 40 professional "League of Legends" players in North America and Europe, with most making comfortable five-figure salaries in sponsorships and winnings. Riot does not have an ownership stake in any of the teams, but provides players a small stipend. The top franchises generate millions of dollars in sponsorship revenue on their own and members often live together in rented mansions, where they practice 10 to 12 hours a day.
The Kobe Bryant of "League of Legends," Andy Dinh (online handle: Reginald), earns $64,000 a year, according to esportsearnings.com.
For reprint and licensing requests for this article, CLICK HERE.
Prev Next