INVESTMENT: WESTSIDE STARTUPS ARE EXCEPTION AS TWO LARGE DEALS ARE CLOSED.
Venture Funding in Region Dives in First Quarter
Monday, April 29, 2013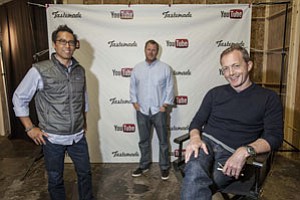 Opportunities in software and entertainment companies remain strong, according to both reports, which is an encouraging sign for L.A.'s tech scene. Locally, the first quarter of the year saw continued interest in the online video industry; YouTube networks StyleHaul in Hollywood and Tastemade in Santa Monica both attracted seven-figure deals.
The prevailing wisdom within the tech community is that consumer apps have fallen out of favor. However, the Westside was home to an outlier that was able to attract a big investment: Messaging app Snapchat in Venice, which has built up a following among a young audience, raised $13.5 million in February.
Werner stressed that it's still too early in the year to draw any long-term conclusions about a continued decrease in venture capital investment.
But for many of the newest startups, especially the ones coming out of the accelerators, the drop in funding is palpable.
"Anecdotally, it's a much tougher funding environment than it was nine to 12 months ago," said Erik Rannala, who runs Santa Monica accelerator MuckerLab.
The tightened purse strings don't mean raising money is impossible. Instead, Rannala is advising the companies to be prepared for a longer slog through the funding rounds than it used to be.
"The good companies that have strong fundamentals and revenue streams will still be able to raise money," he said. "But it might take a little bit longer."
Prev Next