INVESTMENT: WESTSIDE STARTUPS ARE EXCEPTION AS TWO LARGE DEALS ARE CLOSED.
Venture Funding in Region Dives in First Quarter
Monday, April 29, 2013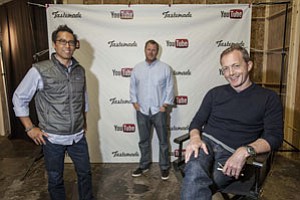 The L.A. tech scene showed mixed signs when it came to startup investments in the first quarter, as companies on the Westside attracted strong interest from venture capital firms while funding throughout the rest of the region took a notable dip.
Investors anted up $167 million to area startups in the quarter ended March 31, according to a report by downtown L.A.'s City National Bank, which used data from Dow Jones VentureSource. That total was a 19 percent decrease from the previous quarter and a 23 percent decrease from the same quarter last year.
It was also the third consecutive quarter of declining investment dollars within Los Angeles County. The number of investments made by venture capital firms remained mostly flat, slipping from 28 in the previous quarter to 25.
The bright spot among the data came from firms in so-called Silicon Beach, defined in the report as Santa Monica and Venice, which accounted for more than two-thirds of the region's investments. The $125 million that went into startups in that region was more than double the previous quarter and the area's strongest showing in more than a year. It was led by banner raises of $60 million for headphone maker Beats Electronics LLC and $30 million for tech incubator Science Inc., both in Santa Monica.
Even with venture capital investment in the L.A. region declining overall, those standout hauls showed signs of a tech scene that's still building plenty of fundable companies.
"While the amount of venture capital was down in L.A. for the quarter, it was a little surprising because we see a lot of positive signs for long-term growth," said Rod Werner, managing director of technology and venture capital banking at City National. "Silicon Beach, in particular, has become a strong market. It's more organized than it used to be and we're seeing more venture capital firms locating there."
Werner also noted that the City National report does not include seed funding from noninstitutional investors such as angels. In a young tech economy like L.A.'s, these donors can play an important part of the funding process for startups.
The decrease in funding across Los Angeles is in line with the national trend. The quarterly Moneytree report from PricewaterhouseCoopers LLC, which uses data from Thomson Reuters, said venture capital investments during the most recent quarter fell 12 percent nationally compared with the previous quarter. Biotechnology investment took the largest hit, dropping 33 percent for the quarter to $875 million.
Prev Next