Drafting an App for Sports Enthusiasts
Thursday, April 25, 2013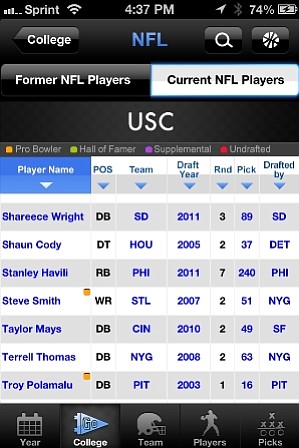 The day of the NFL draft finally is upon us, and as the endless hype machine around the event indicates, this ain't the way your grandpa watched the draft.
The act of watching a professional sports league draft is no longer about seeing which collegiate athletes are chosen by which teams. It's about a sports bar-style debate about the successes of previous draft classes, of a school's sports program, of what positions different teams need to fill. And the 15 minutes between announcements of each pick make for a lot of time to fill.
It is with that in mind that David Rabie and Joe Sarafian created what may be the ideal viewing partner. Draftpedia, an iPhone app released a few weeks ago, is designed to be a one-stop reference for all things related to watching a draft. Among the statistics it stores are current and previous team rosters, historical stats and awards, the players that have come from specific colleges and even from specific countries.
Rabie and Sarafian, who are childhood friends and both attended UC Santa Barbara, aren't putting original research into the app. Rather, Draftpedia aggregates the mounds of data about previous draft picks and players into one reference point. Wikipedia, ESPN and sports-reference.com are among the sources from which it pulls data.
To anyone who's a relative newbie to watching and debating the drafts, Rabie explained that comparing current picks to a previous class or the successes of fellow alumni from an athletic program is "an easy way to judge talent."
Draftpedia is built for both the NFL and NBA drafts – in fact what inspired the two avid sports watchers to create the app was a debate about the storied badness of New York Knicks power forward Kenyon Martin's 2000 draft class.
Since launching the app, Rabie and Sarafian, who are working from an office in Santa Monica, say it has amassed just under 10,000 downloads. That's no breakout hit, but still impressive given that the only marketing they did was a guerrilla-style outreach to dozens of national sports writers, as well as to sports fans on Facebook.
The app does feature some small ads, though they aren't talking too much about monetization yet. For now, Rabie and Sarafian are focusing on monitoring the app's downloads and metrics, all while the giant clock hung up in their office reaches zero.
"Our big joke is that at the very least we built something that will be a big help to us as we watch the draft," Rabie said.