Video Streamer Goes Live With Expansion Plan
Monday, April 22, 2013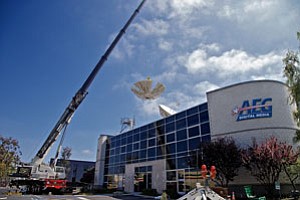 Although Incited was already known within digital circles, taking the AEG name opened more doors, said Drew Baldwin, chief executive of Tubefilter, an L.A. streaming media company with producing credits that include the Streamys, a Web video awards show. AEG Digital was a sponsor and technology provider for this year's Streamys in February.
"AEG is a very recognizable name in the events space," Baldwin said. "The 'AEG' factor is a big boost."
Thus far, live events have been big business for AEG Digital, which Roach said has revenue above $10 million annually. The company has about 30 employees
In recent years, the company has worked on streaming some coverage of the Grammys and Oscars, as well as Coachella and Lollapalooza music festivals. The firm is often hired by either the broadcast rights-holder or another technology company that has already been hired and wants access to AEG's capabilities. AEG Digital will sometimes share advertising revenues related to the streams.
But the task now is to move beyond one-off deals and into more annualized agreements with traditional cable companies. Roach said AEG Digital has already set up four deals in the past year with either cable channels or pay TV operators, although he would not name his clients.
As part of the expanded line of business, Roach said the Marina del Rey facility now hosts hardware from the pay TV companies. AEG Digital workers oversee the streams.
Demand for streaming technology services is on the rise. For example, DirecTV Inc. of El Segundo offers a streaming app and Time Warner Cable just last week announced the update of its Apple app that lets customers watch out of the home.
Those apps, however, only provide access to a few channels on DirecTV and Time Warner, because not all their content providers have agreed to deals to make their programs available for streaming.
But the offerings are nonetheless early efforts to combat so-called cord-cutting – or the trend of canceling a pricey pay TV subscription in favor of digital options.
Another apparent opportunity for AEG Digital is to work with its parent company's cable channel, AXS TV, which specializes in live events and has yet to launch a dedicated streaming service.
Tubefilter's Baldwin said AEG Digital is in the right position at the right time.
"People are getting excited about live," he said.
Prev Next