Video Streamer Goes Live With Expansion Plan
Monday, April 22, 2013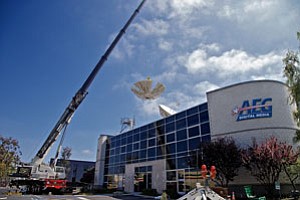 Today's buzzword: "TV everywhere." It means that television viewing is moving out of the living room as more people stream programs on their computer, tablet or phone.
It started as a trickle a few years ago with the occasional awards show or sports event. But now, that's turned into a stream of streaming.
And one company that specializes in the technology for live streaming, AEG Digital Media, a unit of L.A.'s Anschutz Entertainment Group, is striving to capture the flow. The company is making big investments and inking deals that it hopes will turn it into the go-to technology provider for real-time online viewing.
"There are a lot of eyes on trends of how consumers are watching media," said Chris Roach, head of business development at AEG Digital. "Our advice is to get out in front of that."
To evolve alongside the fast-changing habits of consumers, AEG Digital has also been building out its offerings.
Last year, the company purchased a broadcast center in Marina del Rey, to expand its capacity to receive satellite and fiber-optic signals from all over the world.
For example, it can pick up the broadcast signal of a cricket match in Asia. The company then converts that signal into a streaming format and sends it to Internet video players.
Earlier this month, AEG Digital announced a deal with SnappyTV of San Francisco. The agreement will allow AEG Digital to use SnappyTV's software to create quick-turnaround highlight clips from live streams. For example, a hole-in-one at the Masters golf tournament could be turned into a highlight and subsequently sent out by a broadcaster via Twitter within a half-minute.
The highlights are meant to bring in new audiences from social networks while also giving advertisers another platform.
The SnappyTV deal took the form of a monthly licensing agreement. The companies will also work to develop new social media features.
SnappyTV Chief Executive Mike Folgner said offering highlights is another way for advertisers to stay relevant in today's quick-fire world of digital entertainment.
"(There's) a lot of advertiser interest to be the brand around these events," Folgner said. "If you're advertising on the events, you want to be advertising on the key moments."
Cable deals
AEG bought its way into the streaming business with the purchase of webcasting pioneer Incited Media of Los Angeles in 2009, which was merged with AEG Productions to create AEG Digital Media.
The acquisition gave the company access to AEG resources, including the broadcast center and satellite facilities at L.A. Live, the company's headquarters.
Prev Next