Sowing Startups
Special Report: Tech Finance
Monday, April 15, 2013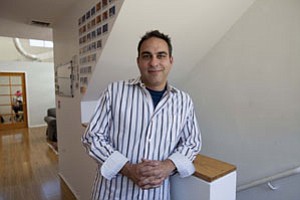 "We're trying to pick up on this innate ability to make something out of nothing and succeeding where they have no business doing so," said David Travers of Santa Monica firm Rustic Canyon Partners. "There are lots of other aspects, but that alchemy in a person and in the team is key."
Those "other aspects" are the quantifiable ones – the size of the market a company is going after, the success (or failures) of competitors in the field and the cost of building up a customer base.
Repeat success
But the people managing venture capital funds continue to base their primary investment decision on the skill a startup's founder has in leading a project and bringing other people on board with his or her vision.
Dana Settle of Santa Monica's Greycroft Ventures looks to a founder's previous success as a determining factor.
"The No. 1 pattern is successful repeat entrepreneurs," Settle said. "We're looking at teams that are working together again, even if it's in a slightly different area."
The relationship between a venture capital investor and a startup is more than just fund and recipient. Beyond the equity stake, firms that make a sizable investment in a young company take on advisory roles, with many holding positions on the board.
"As major investors it takes a lot of our time; we have to sneak out of meetings to take calls as board members," said GRP's Suster. "We don't get involved unless we have a meaningful enough stake."
As Los Angeles begins to emerge as a viable scene worthy of investor interest, it also has to deal with a dearth of larger, late-stage funding.
Unlike Silicon Valley, which is replete with funds that might figure into the billions, Los Angeles is still a small-ball market. No local fund is larger than $250 million. Occasionally, a company such as JustFab or SnapChat can command venture interest from outside the area, but most initial funding comes from local capital.
There is hope among venture capitalists that a local business could hit it big, with venture capital riding on its coattails. It's happened before; Chicago's Groupon Inc. virtually invented the area's tech boom once the company became a multibillion-dollar, if beleaguered, public company in 2011.
That belief is what turns people such as Lilling into the new mentors, and funders, of the area's tech foundlings.
"There is a give-before-you-get mentality in L.A.," Lilling said, "You need to build the pie before you split it up. We're in pie-building mode. It's one of the best parts of the job right now."
RELATED STORIES:
Prev Next