Sequencing Venture Capital
Special Report: Tech Finance
Monday, April 15, 2013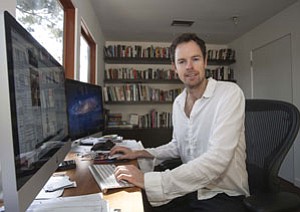 Santa Monica's Siemer Ventures, which has been among the most active investors locally and has chipped in to startups such as Adly and StyleHaul, prefers a quantitative approach. Among the 24 investments the company made in 2012, few were above $1 million and in none did it take the lead.
A smaller investment does run the risk of having the equity diluted as a company raises bigger money down the road, but as Siemer Managing Partner Eric Manlunas looks at it, "I'd rather have a smaller piece in a bigger pie, than a big piece in a small pie."
INVESTOR PROFILE: ERIC MANLUNAS
COMPANY: Siemer Ventures
YEARS AT COMPANY: Began investing in 2003. Been at Siemer Venture since firm's inception in early 2011.
SIZE OF FUND: $30 million
COMPANIES INVESTED IN:
Invested.In, Social Annex, Club W.
What types of companies do you invest in?
We're in three verticals: Internet software and mobile services, and within those we're big into ad tech; e-commerce; and digital media.
How do you valuate a company?
There are four elements I look at: How big is the market; how does it fit into it; what is the quality of the team; and what are the financial risks involved. Those are the things we evaluate, but it's more of an art than science. It's a function of all those elements and negotiations with the founders.
What's your time line for expecting a return?
Anywhere from three to seven years. It's been averaging around that time frame. Our first exit, CloudTrigger (a San Diego cloud software maker), was 14 months. But most are obviously within that three- to seven-year mark. At the rate we're going, we expect exits to happen on a yearly basis in the next few years.
Are there any concerns you have about the local funding scene?
What we don't have enough of is the bigger firms who can do follow-on beyond series A. But there is plenty of money from up north and ultimately the good companies that are proving metrics will get money and the mediocre ones struggling to prove their concept will struggle.
Stage 4, Midsized VC: Local Leads for A and B Rounds Not Easy to Find
Firms in Los Angeles willing to write out seven- or eight-figure checks for tech companies are becoming a rare breed.
Only three local venture capitalists actively participate in late A or B rounds here: GRP Partners in Century City, and Santa Monica's Greycroft Ventures and Rustic Canyon Partners. As recently as the mid-2000s, that list was considerably larger.