Sequencing Venture Capital
Special Report: Tech Finance
Monday, April 15, 2013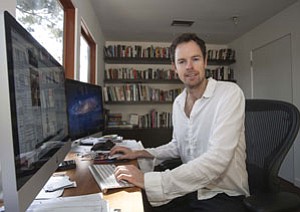 Dozens of individuals – both career angels and active tech executives – invest in a startup's seed and Series A rounds.
These investments can range from $25,000 to $250,000, depending on the angel, and taken together lead to a seed round typically south of $3 million. Some angels like to make a few large investments for a big piece of the equity pie, while others prefer to participate in many smaller deals and take only a 1 percent or 2 percent stake in the company.
Because angels invest their own money in deals, their investing patterns are less rigid than venture capital and private-equity firms.
Jarl Mohn, a longtime television executive-turned-angel investor, started investing by writing only a few million-dollar checks each year. But he soon settled into a habit of writing smaller checks.
"It's more fun," said Mohn, the former chief executive of E! Entertainment. "I get to see more opportunities and get in earlier."
For angels, the decision to invest in a company is largely personal. Though standard criteria include an experienced founding team and a product that stands out from the pack, most angels said they base their decisions on intuition.
For Mohn, it typically takes three phone calls before he's ready to write a check. Meanwhile, Thomas McInerney, an active L.A. angel, said he'll often decide to invest in a company while meeting with a founder over a meal. Robert Jadon, also an angel in Los Angeles, said he vets startups by talking to his network of tech entrepreneurs and investors.
"As an angel, I don't get to see any of the company's traction because I'm investing too early," Jadon said. "It's really a lot more about feel than metrics."
INVESTOR PROFILE: THOMAS McINERNEY
TITLE: Angel investor
COMPANY: Self-employed
YEARS AS AN INVESTOR: 4
LOCAL INVESTMENTS: Lettuce, an iPad app for small businesses; Zefr, a YouTube monetization platform; Burstly, a mobile advertising tool.
What's your standard investment size?
My typical investment is $25,000 to $100,000 and my average is $50,000.
What rounds will you participate in?
I'm always in seed and I sometimes do series A. I'll certainly do my pro rata, which means that in subsequent rounds I'll invest to keep my ownership the same and prevent it from being diluted.
What is your time line for expecting a return?
The irony is that the best companies take the longest, like Burstly and Zefr. They are taking a long time now, but they have big ambitions. They aren't just a quick talent acquisition.