Snail Brings Game Stateside
Originally published April 10, 2013 at 3:34 p.m., updated April 10, 2013 at 5:13 p.m.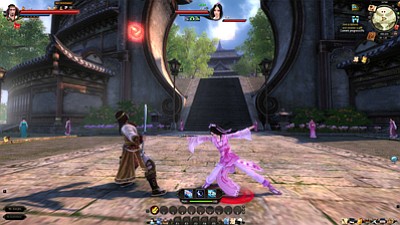 EDITOR'S NOTE: This story has been updated to reflect that "Age of Wushu" will be available for sale in stores on April 23.
Two years ago Chinese game developer Snail Games opened a U.S. subsidiary in Marina del Rey to bring its video games to American audiences.
The 65-person company has since launched several computer games played through a web browser. But the company had yet to bring its most popular title stateside.
On Wednesday Snail Games finally launched its biggest game, a massive-multi-player called "Age of Wushu," to American audiences.
"Age of Wushu" is set in Ming Dynasty China. Unlike many such games that have fantasy elements, Wushu's gameplay is focused on martial arts training and skills.
David Baker, director of game development at Snail Games U.S., said the company had to make some tweaks before releasing the game in the United States.
"There's a difference in the user interface and the graphics of the game that have been a major hurdle," he said. "But the game itself hasn't changed because we've found that games translate pretty easily across countries."
"Age of Wushu" can be downloaded online for free and a special-edition will be available in stores for $20 on April 23.