Video Links
YouTube channels team up to score bigger ad rates
Monday, April 1, 2013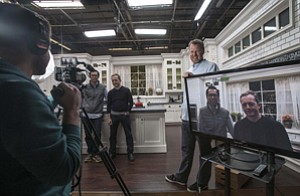 "A production company could create content all day long, but when it comes to distribution they need a network," said Sam Rogoway, who's worked in the online video content industry for years and currently heads Santa Monica app maker Touchframe. "Without that network, it becomes tricky for channels to market themselves."
Many types
Not all multichannel networks are alike.
Some, such as Tastemade and Maker Studios, are similar to a TV studio. They fund and produce shows, some of which are filmed on company-owned sets and edited in-house.
Even though an established name such as Maker can claim millions of subscribers on its company-branded YouTube channel, that metric isn't the focus for all the multichannel networks.
Fullscreen, which has offices in the Culver Studios lot, bills itself as the network with the greatest reach. According to Web analytics firm Comscore, Web series affiliated with Fullscreen were watched 31 million times in December, making it the multichannel network with the most views. Having a widely viewed network can theoretically make the videos more appealing to advertisers and thereby command higher ad rates.
Meanwhile, the official Fullscreen YouTube channel has only 16,000 subscribers and the network has no plans to change its strategy.
"I'm not convinced the world cares about a Fullscreen channel," said co-founder George Strompolos. "We wanted to focus on building a powerful network and I think we've done that."
StyleHaul markets itself as the network with close ties to the fashion industry. One of its channels, LeafTV, joined the network last year and has since inked sponsorship deals with clothing makers Gap Inc. and Ann Taylor.
Geri Hirsch and Erin Falconer, LeafTV's co-founders, began the channel purely as a passion project. Prior to affiliating with StyleHaul, they tried to generate venture capital interest, but investors balked at the idea of funding such a small outfit.
"It wasn't clear to them how we could generate a $100 million business, which is what venture money generally looks for," Hirsch said. "StyleHaul understood what we were doing and given our previous venture capital experience, that really crystalized what a great relationship it is with the network."
There are also differing attitudes on how wide a net a multichannel network should cast when selecting channels. Maker and Fullscreen have taken a broad approach to the channels they're taking on, while StyleHaul and Tastemade remain focused on their specific topics.
"Instead of being spread across different verticals, we wanted to be able to say, 'Here's what a great video of food is,'" said Tastemade co-founder Fitzgibbon. "Going across different categories gets to be harder."