Silicon Beach Fools Around
Monday, April 1, 2013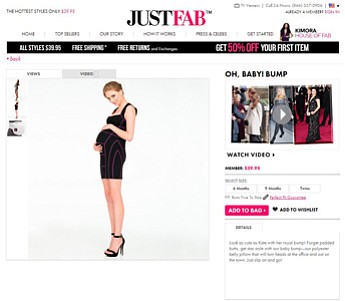 Silicon Valley tech firms have a history of poking fun at customers on April Fools' Day. This year, some Los Angeles startups got in on the fun.
El Segundo e-commerce company JustFab on Monday hawked a $40 baby bump so women could "look as cute as Kate with her royal bump."
The polyester belly pillow – which comes in sizes "6 months," "9 months" and "twins" – is said to "turn heads at the office and out on the town."
A company spokeswoman confirmed that the bump is an April Fools' hoax, although there are likely some disappointed JustFab customers who were hoping to dress like their favorite pregnant celebrities.

Hulu also participated in April Fools' fun with a tribute to fake television shows and movies that only appear in TV sitcoms. The shows listed included "The Rural Juror," a movie from NBC sitcom "30 Rock," fantasy show "Inspector Spacetime" from NBC comedy "Community" and "The Itchy & Scratchy Show," a cartoon described as "the most violent, beloved children's series of all time" that exists only in the world of "The Simpsons."
Mountain View search giant Google Inc. usually wins the April Fools' wars. This year the company boasted at least six made up features, including a treasure map mode on Google Maps and a new Google Nose to let people sniff smells through their computer.