VIDEO SITES TAP NICHES TO TAKE AIM AT YOUTUBE
Tighter Focus
Monday, May 28, 2012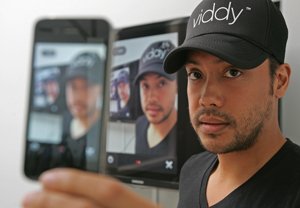 When YouTube LLC launched in the pre-Facebook and pre-Twitter era in 2005, it created a space for people to share their videos online.
But seven years later, the San Bruno company's success has spawned a legion of video sites that hope to improve upon YouTube's model. Marrying modern design with niche focuses, these new sites target audiences who seem to want to talk about the videos as much as watch them.
Newcomers Viddy Inc. and Chill are two L.A. companies vying for eyeballs as well as money, and Venice's Viddy got a big jolt of both last week.
Viddy is often compared to photo giant Instagram for its simple, one-click editing tools and Twitter for its conversational tone. Twenty-eight million people use the year-old service, including celebrities such as Snoop Dogg, Bill Cosby and Katie Couric, who can create their own branded channels to reach fans.
The service is free and allows "viddyographers" to post and edit videos much the same way people use Instagram to beautify photos. Premium services with more editing options are available starting at 99 cents.
Meanwhile, in Hollywood, nine-month-old Chill allows a community of 13 million people to discover and post videos based on interest, much like virtual sharing site Pinterest.
Neither company has figured out monetization strategies, choosing to focus on building services and users instead. But that hasn't seemed to scare investors. Menlo Park venture capital firm Kleiner Perkins Caufield & Byers has invested about $2 million in Chill; TechCrunch's Michael Arrington has also contributed.
This month, Viddy received a surprising $30 million in funding, confirming the growing phenomenon of social video.
"I think what's exciting from our perspective is a real validation of the category," said Brett O'Brien, Viddy's co-founder and chief executive.
He said the funding will help the company aggressively hire and build out its service to more formats, including television.
"We're envisioning a world where Viddy is displayed across all devices in a variety of different ways," O'Brien said.
Viddy is also preparing to launch applications for android smartphones, as well as tablets and iPads. The company also wants its videos available on television.
"Ideally Viddy content will be enjoyed through Xbox Live and Apple TV as well," O'Brien said.
Viddy was co-founded last summer by O'Brien and JJ Aguhob. Aguhob, the company's president, said the concept began after he started shooting short videos of his friends. His problem wasn't creating the footage but finding ways to edit and post it.
Prev Next